Just wanted to wish you and yours a happy Thanksgiving and a wonderful Hanukkah.
In a series of studies published in the Journal of Social and Personal Relationships, study participants were more satisfied with their lives if they shared good news at least twice a week, with someone who responded positively to the good news.
So take an occasional moment this holiday season to share the good things in your life with those around you.
Happy Thanksgivukkah!
-TimK
Recently, my friend and fellow creator Julie Lavender released her music CD The Siddur Project.
Julie hosts the syndicated Dreamfarm Café radio show, which features area musicians: an "experience of eclectic jazz," says the show's website, "an intimate window into the very heart of an artist's creative process."
But Julie also writes and performs her own original music, and paints original art as well. Hence, The Siddur Project.
Read the rest of this entry »
…I've moved all my software-development posts over to my new software-development blog, where I'm currently in the midst of a series chronicling my evaluation of Perl 6.
At least since the mid 2000′s, when I wrote about software, I tried to keep it popular, non-techie, or at least about the culture rather than the coding. On my new SD blog, I am no longer afraid to use lots of code snippets. And I've taken to publishing sample code on GitHub.
Why the change? Am I going back to software development? Yes, I think so. I haven't given up writing. But I've updated my resume. I've come to terms with the fact that not everything and everyone and everyplace in software is like this:

On the other hand, I'm trying to avoid getting caught in a workplace like this again. For a creative type like me, who depends so heavily on innovation, on constant improvement, on challenging the status quo for the better. Working with others who do not share that passion, it can be positively demoralizing.
You may recall my struggle with depression, precipitated by working conditions common to the software industry.
However, as a consultant, I've had a number of gigs that have been utterly pleasurable. In fact, most of them have been. So it is possible to do good work inside a modern software-development organization. And it is possible to find fulfillment in it. True, I still have friends who complain about their dysfunctional workplaces. But the functional ones also exist, and I know it is possible to find them.
I don't know how long the search will be, but I'm no longer afraid of it.
-TimK
Today, I turn 44 years old.
I've already got two big birthday presents. The first is that today is the first day after the last day I have to drive my Firstborn to school this year. (Yay! School's out!) It's the changing of the season, which always excites me.
The other big birthday present I got is a small wad of cash someone hid in one of my birthday cards. And I'm going to use it to buy a new hard drive for this laptop I'm typing on, because it was running slow, and so I ran a self-test on the drive last night and discovered that it's on the verge of failing. (Sheesh!)
But I would love more birthday presents!
The biggest gift you could give me, frankly, would be to post a short review of one (or both) of my inspirational ebooks:
Read the rest of this entry »
While writing my latest post in the "Computer Folklore" series, I went off on a bit of a tangent. And I had to delete several paragraphs of story in order to get back on track.
The post is going to be all about how important it is for me to find meaning in my work. And how easily the work can completely fall apart if this need is not met.
I've recently had to re-wrestle with this story, because I think I've failed the Jewish-Christian Relations course I've been taking. It was, in part, an experiment. The professor who was originally going to teach the class has never given a talk or written a paper I didn't appreciate. It turns out, she couldn't; and I had plenty of time to cancel or to transfer to a different course, but I figured I'd play out the story the way it was shaping up, just to see where it went.
Read the rest of this entry »
Links and things that I've run across recently.
The journey begins…
On Tuesday, I assigned the ISBN for the eBook edition of Walking in the Moment Between Tick and Tock": 978-0-9816925-6-2.
I told Bowker about it, so I'm committed now. I told them it was to be released on June 20, which happens to be my birthday.
I also put the book up on GoodReads.
All I have left is to finish up the formatting, then upload to Amazon, B&N, and Kobo. But I'm also giving away copies of the ebook with its launch, through Father's Day and my Birthday and the beginning of Summer—the beginning of Party Season. So stay tuned.
The Truth about Bananas
Apropos of nothing, a couple of photos I happened across on Flickr:
Read the rest of this entry »
Links and things that I've run across recently.
April Fools!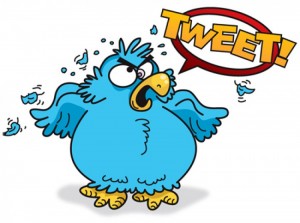 A couple months out of date…
From the April 1 Twitter blog:
Starting today, we are shifting to a two-tiered service: Everyone can use our basic service, Twttr, but you only get consonants. For five dollars a month, you can use our premium "Twitter" service which also includes vowels.
Unfortunately, the post had to be withdrawn from the Hebrew and Arabic versions of the site, because no one understood the joke.
(Not really. I made that last part up.)
Read the rest of this entry »
Contentment makes poor men rich.
Discontent makes rich men poor.
Supposedly, Benjamin Franklin said that. I was unable, in my brief research, to confirm that these are actually the words of Benjamin Franklin. But it's a good thought nonetheless.
I've written about this idea before, from a slightly different perspective, that our happiness is not primarily determined by our circumstances. Rather, to paraphrase the Apostle Paul: I can live in any circumstance, in any situation, whatever God calls me to.
Paul also addressed it from this side of the equation, in one of the most frequently misquoted lines from the New Testament: That money is the root of all evil… Except, of course, Paul never said that.
Read the rest of this entry »
One reason I've been absent is because I've been working on a new book, a book that I'm now on the verge of releasing. (Exciting!)
Walking in the Moment between Tick and Tock a short, inspirational book (about ¼ the length of a full-size novel), looking at the period between Passover and Pentecost, between Pesach and Shavuot, integrating insights from both Christian and Jewish thinkers. It tells the story of these holidays as linked parts of the same narrative, two ends of a single span, and not as two independent holidays— I didn't invent the idea, of course. But I found a number of profound insights connected with this idea.
Today's double teaser from Walking in the Moment between Tick and Tock: From Passover to Pentecost:
Read the rest of this entry »
The metaphors we use affects how we think of things. And how we think of things betrays the metaphors hidden in the reaches of our minds.
Being part of a Messianic Jewish synagogue, I continually encounter the power of how we think, power to bring people together, or to push them apart. Because there is a 1700-year-old chasm between Judaism and Christianity, a chasm that Messianic Judaism now straddles precariously, and promises to make both friends and enemies on both sides.
If you see Yeshua as the guardian of the chasm between the old and new covenants, then it's easy to ask—for example—whether to follow G-d (Judaism) or whether to follow the way, the truth, and the life (Christianity). But if you see Yeshua as the builder of the bridge that brings Torah to the rest of the world, then that question itself becomes nonsensical. Instead, you begin to ask where in the Torah is Yeshua and his teaching reflected and how he fits into Judaism.
Read the rest of this entry »