I got a wonderful email this week from Carrie L., who just recently read Love through the Eyes of an Idiot, my short, romantic memoir about YA angst and unconditional love. Carrie's email I just had to share. (With her permission, of course.)
I enjoyed reading your book – so much that I read it in one sitting. My mind drifted to my own past relationships, the good, the bad and the ugly. But I know that each situation made me stronger, not willing to settle, and to fully appreciate the man I am now seeing. God rewards us and sends that special person to us when we least expect it.
Thank you again, Carrie. That's such a wonderful sentiment, and I'm so glad that the book was uplifting for you. That's what I was aiming at.
I also should add that I'm a lier and a swindler and a cheat, because I earlier promised that the free ebook download of this book would only last until the day before yesterday. But because I'm also an incompetent loser and easily distracted, I forgot to have the free download rescinded. So for the rest of today, you can still download the ebook of Love through the Eyes of an Idiot.
"Teaser Tuesdays" Teaser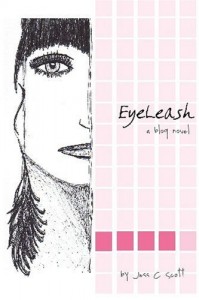 I'm about ¼ of the way through EyeLeash: A Blog Novel, by Jess C Scott. (She sent me a free, electronic review copy, in return for the free electronic copies of my books.) EyeLeash is an alternative, self-published novel, in the form of a blog—or personal journal. Though a YA novel, it's more risqué than most in that genre, because it about… well, it's basically about sex.
The main character, Jade, struggles with whether to lose her virginity with Novan, a once-geeky-now-turned-yummy friend, with whom she has recently reunited.
The blog format I'm finding less distracting than I thought it would be. Stylistically, the story is very easy to read. However, the way Jade carries on about Novan, I gotta wonder if she really feels no romance and no attachment to him. Moreover, she seems afraid of feeling romance or becoming attached, and I wonder why. Why is she afraid of falling in love? Moreover, what motivated Jade to preserve her virginity until now—she's 17—and what (besides simple animal lust) is making her want to change?
In fact, her daydreaming about sex all day, every day, it's getting a little weary. I hope the story moves forward soon.
Also, Jade mentions her dentist in her journal, but not her parents or other real-life friends (as opposed to online friends). Why not? Is she really that lonely, that she has no human contact except for her dentist? What about at her job? Why does she talk about her appointment with her dentist, but not her job? Does the prospect of getting braces traumatize her that much? If so, why?
Unanswered questions I hope will be answered in the coming pages.
UPDATE: Reading some more—now better than 30% through—I see that she didn't have a job. I know this, because she just got one! But my question remains: Is she really that isolated? Doesn't she live with someone? Doesn't she go to school? Why don't any of these experiences make it into her journal?
Here's a random teaser, from page 217:
His back was amazing. You could see all these lines, sinews, muscles or whatever…

I felt like licking them.
-TimK
P.S. Teaser Tuesdays is a weekly bookish meme, hosted by MizB of Should Be Reading. Anyone can play along! Just follow the directions at the "Teaser Tuesdays" post.