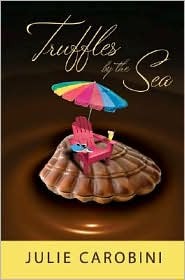 Determined to turn her life around, Gaby Flores moves to a beachfront loft, takes on a new motto–Be gullible no more–and begins to rebuild her flower store while searching for Mr. So Right. But when a lawsuit, an eviction notice, a near-empty bank account, and quirky neighbors invade her beachy world, not even chocolate can solve her worries as her fledgling faith is put to the test. (From the back cover.)
I managed to mooch a copy of Julie Carobini's second book off BookMooch. Her first, Chocolate Beach, I had trouble getting into, but I ended up rating it 4/5 stars. Truffles by the Sea, however, is drawing me in from the first page— I don't know whether that's because I already feel I know the characters, or whether because it simply has a beginning that grips me more, this time from Gaby's perspective instead of from Bri's. Whichever, I'm already enjoying it. Hopefully it will fulfill and exceed my expectations, and leave me singing its praises.
Today's teaser, from page 8 (randomly selected by Random.org):
A girl's–no, this girl's–got her pride. Without that, thanks to the fire that leveled my apartment building, I got nothin'.
Teaser Tuesdays is a weekly bookish meme, hosted by MizB of Should Be Reading. Anyone can play along! Just follow the directions at the "Teaser Tuesdays" post.
-TimK