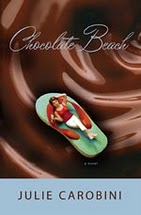 I actually read Julie Carobini's debut novel Chocolate Beach some time ago. But I'm doing a teaser on it today, because I've got a beautiful, brand new, autographed copy of it, which I will be giving away in a post that's going up tomorrow.
Chocolate Beach is what Julie calls "beach-lit," or what I had been calling "Christian chick-lit." As Julie explained in an interview she did with me last year on a different blog:
I began using the term beach-lit around the time that my first book, Chocolate Beach, was released because my heroine, Bri, was more of the "anti-chick." By that I mean she wasn't the usual pink-clad gal who loves name-brand shoes and high-end fashions. She was a working mom who preferred flip-flops and casual hoodies— and of course, being at the beach.

So instead of focusing on the "chick" I focused on the location, the beach. More than that, though, my stories tell of how God offers "Waves of Grace" to those who love and serve him.
Today's teaser, from page 222 (randomly selected by Random.org):
After he takes his own [seat] behind the massive desk, I can't help but notice that he's sitting quite high, while I, on the other hand, appear to be sinking like the Titanic.

"I asked you here today, Brianna, to validate you."
Subscribe to this blog (or come back to blog.JTimothyKing.com tomorrow), because the giveaway post will be going up tomorrow morning.
Teaser Tuesdays is a weekly bookish meme, hosted by MizB of Should Be Reading. Anyone can play along! Just follow the directions at the "Teaser Tuesdays" post.
-TimK