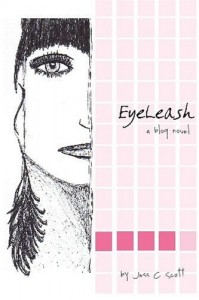 "His back was amazing. You could see all these lines, sinews, muscles or whatever… I felt like licking them."
Okay. That's still a wild quote.
Jade Ashton is a sassy virgin. In her private blog, she vents about "fitting in" a world where superficiality reigns supreme. Suddenly all logic flies out the window when she meets Novan, the former geek, who's morphed into a delicious songwriter-musician. They decide to be so-called friends-with-benefits. But it's Novan, with his poems and riddling passages on his own, public blog, who backs out.
Jess C Scott's EyeLeash: A Blog Novel captures self-discovery in the twenty-first century, and showcases the colorful, intricate drama in two youths' relentless search for themselves, and what's really in their hearts.
I'm giving away a paperback copy of EyeLeash, and Jess has said she'll send a free autographed postcard to the winner.
This novel is written in an alternative format, as a personal online journal, and it's risqué for a YA novel, because of all the talk about sex. Surprisingly, the format did not distract me, and the story captivated me. And as an alternative read, I enjoyed it immensely.
How to Enter the Giveaway
Leave a comment below, on this post, in order to enter the giveaway. Be sure to enter your email address in the appropriate field below. (It won't appear on the website, but if you don't leave me your email, I'll have no way to verify your entry or to contact you when you've won.)
On the morning of Friday, December 17, I'll select a winner at random. (One entry per unique email address.) I'll email the winner to find out where to send the book. And if you respond quickly, you'll probably have it in time for Christmas! I'll also put you in touch with Jess so that you can select which of the 4 postcard designs you'd like.
Big Book Giveaway
Check out the other book giveaways from Big Book Giveaway 2010-2011.
Subscribe to this blog for future updates. Or go to my Facebook page and click "Like." Or follow me on Twitter.
-TimK