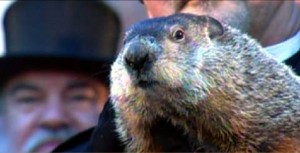 I'm snowed in this Groundhog Day, as is apparently most of the nation. Sitting here, with the family, watching Groundhog Day, a most ironic movie for this particular Groundhog Day blizzard.
Fortunately, this morning, Punxsutawney Phil did not see his shadow, and we will have an early spring. Yay! Because I am now officially tired of winter.
No time to write a proper post today. I'm throwing together a Valentine's newsletter at the last minute (which will probably be late). But I do want to point out, as I watch Bill Murray's character attempt to woo Andie MacDowell's with a fake personality and a collection of memorized lines, he so doesn't get it! None of his lists or setups result in anything but naught. He must first give up his pretenses, and find meaning and purpose within, before he can find companionship and build his life.
How often do we not get it? We worry about the material rather than the spiritual. Or as Yeshua once told us, "Do not worry about your life, what you will eat or drink; or about your body, what you will wear. Is not life more important than food, and the body more important than clothes?" Maybe we need the material to survive— and we have other emotional needs, too. But our need for meaning and purpose, that's one of the things that makes us distinctly human, and we should never forget it. Money, popularity, attention are all important, but they're all relatively easy to come by. Only when we forget about our own needs and seek to reflect in the world around us the best of what's within, only then can we find true fulfillment.
Have a wonderful Groundhog Day!
-TimK