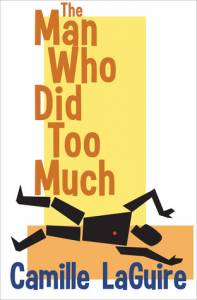 George Starling quit his job as a secret agent to take care of a traumatized woman he rescued. He has brought her home to her small Michigan town, where she can't seem to get better, and he can't seem to shake loose of his need to take care of her. When an old friend asks him to investigate a local lead in an international kidnapping, George reluctantly agrees to interview a witness.
That witness is Karla Marquette, a flaky local movie buff who seems to have lost touch with reality. But George knows the instant he meets her that Karla has a genius for happiness. If he can only help Karla clear her friends of suspicion in this kidnapping and murder, perhaps she can help he and his girlfriend find the happiness that eludes them. But soon George finds himself, and even his girlfriend, entangled in a deceptive plot, and it may be up to Karla (bum bum buuuuummmm…) to rescue them all!
Today, I'm picking up an ebook from my reading backlist, The Man Who Did Too Much, a "Starling and Marquette" comic murder mystery by Camille LaGuire a.k.a. "The Daring Novelist."
I don't remember how I discovered Camille's blog, from which I discovered some of her short stories, which prompted me to pick up this e-novel. I do remember enjoying her work, especially the characters—and as you know, characters are a really huge deal with me.
Today's teaser, from location 6258 (or thereabouts, randomly chosen by Random.org) of The Man Who Did Too Much:
Gwen turned and buried her face in his shoulder. He hesitated for a fraction of a second, but then he thought life's too short for the messy awkward bits…

He cradled her head between his hands and he kissed her, full on the mouth… He was aware that this could be closure. It could be the end. Or it could be the beginning of something. He had no idea and didn't care…
---
Teaser Tuesdays is a weekly bookish meme, hosted by MizB of Should Be Reading. I'm trying a variation on the mainstream "Teaser Tuesdays" concept. Instead of quoting two sentences from a random page in the book, I'm selecting a snippet that reflects qualities I find in the book.
-TimK