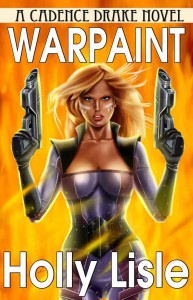 The job sounded simple enough; locate a space miner's missing wives. Quick. Easy. Painless. This was not supposed to have anything to do with the damned Legends. This was supposed to have been a milk run, a simple job of locating two women who'd extended their vacation without notice and getting them back home to their worried, waiting husband…
After the hectic of the holidays, I settled down with Warpaint, the second installment of Holly Lisle's Cadence Drake series, which was released last month to much personal fanfare— The Little One (who's not so little any more) and I had been waiting for it for a long time. See, the first title in the series, Hunting the Corrigan's Blood, came out in 1997, hit the Locus best-seller list, and sold out its first printing, at which point the publisher promptly canceled the series. (Corporate reorgs are a bitch.)
The Little One and I have been waiting not-quite-since-1997 for the sequel, but we have been waiting, and hoping. HCTB was one of those stories whose characters have staying power, that having read it, I felt a profound loss at having finished it. I so wanted to continue on with Cadence Drake that (for a time) I had trouble getting excited over reading anything else.
Then Holly got fed up with the publishing industry, went indie, personally republished a bunch of titles from her backlist, and began working on the sequel to HCTB (which was originally supposed to be the first of, like, 10 titles). Warpaint went up on Amazon, B&N, Kobo, and other sites last month.
So I figured, with the new year now fully in flow, I would start on Warpaint (planning to go back and read it again with my daughter) and post a teaser. Unfortunately, I couldn't put it down, and now I've already finished it, even before the first Tuesday post. Hrm.
No matter, I'm still posting a teaser today. (Hope to work on a fuller review, for my ebook-reviews site, later today.)
Today's extended teaser, from Kindle Locations 165-171, 174-179 of Warpaint:
I had the long blonde hair and blue eyes of Candibelle on the stage at that moment, the coffee-with-a-touch-of-cream skin of Torch—who looked anatomically impossible to me—and the Old Earth Asian cast to my features, including the almond eyes and epicanthic fold, of the drink girl who'd just asked me if I wanted to buy a lap dance from any of the girls on stage. All of that courtesy of three biological fathers, and the psychotic mother who'd bought their genes and paid some illegal gene-hack to rearrange them to make me. On the other side of the equation, I had my mother's height, and the solid muscle I'd earned living at two Gs aboard my ship and working all those muscles through daily combat routines. And I was wearing a ship suit, which fit like skin because it was designed to stay out of the way…

My client had contacted me as my alias, JT Loggins. The real JT Loggins had been murdered by space pirates, and one of Storm Rat's minions had identified the body during a salvage sweep, and had grabbed all details of her identity, which Storm Rat had cleaned for resale—JT had been from some low-tech world with abysmal document security, so Storm Rat had been able to alter the few records that described her short, miserable arc through existence to make her look like me. Not having to have melanin lifts or bone restructuring or any of the other things I'd had to live through to get the job done in the past was a surprising benefit to being officially dead. It was, as far as I could tell, the only benefit.
---
Teaser Tuesdays is a weekly bookish meme, hosted by MizB of Should Be Reading. I'm trying a variation on the mainstream "Teaser Tuesdays" concept. Instead of quoting two sentences from a random page in the book, I'm selecting a snippet that reflects qualities I find in the book.
-TimK