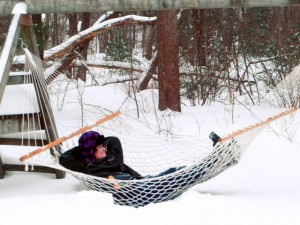 Now that the storm is passed, and we're all dug out—which is a whole other story, for another time—we can look back at the fun, the pain, and even the beauty Nemo left us.
The funnest part, of course—for many of us—was being bundled up safe at home, with plenty of supplies, while the cold world raged outside. Some of us lost power, unfortunately, at least for a period of time; and with power, heat.
Others, like my own brother and his wife, worked into the storm (and some of them, through the storm), in emergency-response and medical fields, and for that we thank them.
And after it was over, then came the basking and romping, and some great photo-taking. I've collected a number of photos my friends have posted.
Like this little fella (posted by one of my other sisters-in-law), waiting for another shovelful: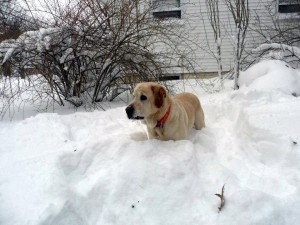 Unfortunately, when I see this shot, all I can think of is: How come their bathroom is never overrun with snowflakes?
---
L.B. took a picture from her back porch. Unfortunately, you can't see much, because—hey!—giant snow drift, that's why!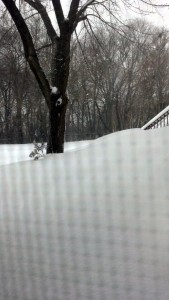 And this was common. My mom posted this photo of their front walkway and parking lot. Can you see the sidewalk? Can you see the cars? They're there, believe it or not.
Fortunately, their condo association hired someone with a front-loader to scoop out the snow, and then someone with a shovel to clear the sidewalk.
Unfortunately, even after you do dig out, sometimes you find that the job is only begun…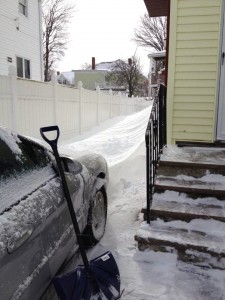 (More stories like this, from my own camera, later.)
---
I mentioned my brother before, who is a paramedic. He managed to get this shot on his cell phone. The extreme fuzziness is the snow. (It was a blizzard, after all.) The round thing is someone riding their bicycle. Yes, that's right.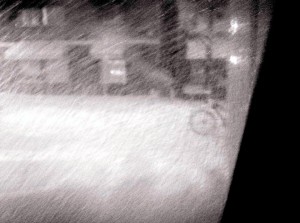 ---
I love this sequence, captured by my friend E.O.P.: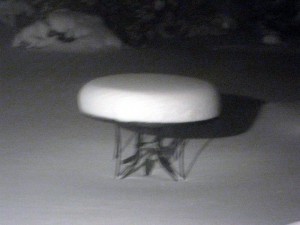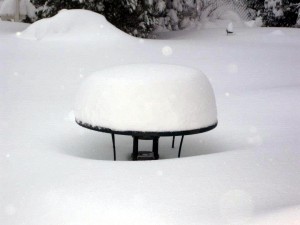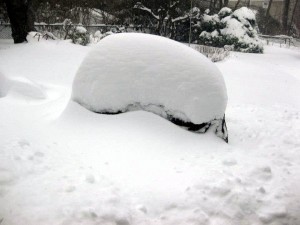 ---
And another friend, C.S., entitled this one, "Procrastination…"
…to which I replied, "It's makin' me late. It's keepin' me way-ay-ay-ay-aytin…"
After procrastination comes, "I love this!"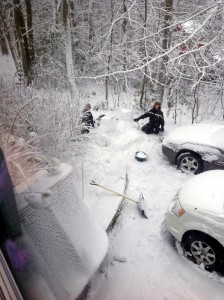 ---
One of my other sisters-in-law posted a quiet "after" photo from Canada: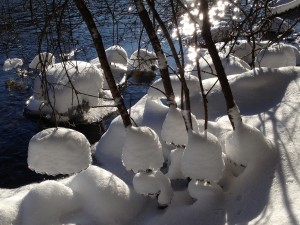 I can almost hear the ripping of the water.
On the other hand, when my sister-in-law—the first one I mentioned, who camped out the storm in town—when she arrived home, this is what she saw: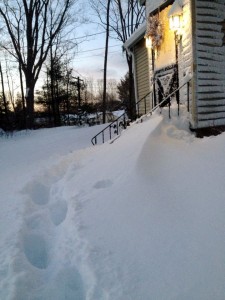 Beautiful, if you get the shot before the shovel.
And lastly, my friend Julie Lavender posted this view from the DreamFarm Café, where she records her syndicated radio show of the same name.
Stay toasty!
-TimK