Links and things that I've run across recently.
April Fools!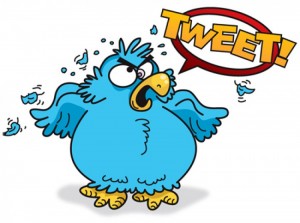 A couple months out of date…
From the April 1 Twitter blog:
Starting today, we are shifting to a two-tiered service: Everyone can use our basic service, Twttr, but you only get consonants. For five dollars a month, you can use our premium "Twitter" service which also includes vowels.
Unfortunately, the post had to be withdrawn from the Hebrew and Arabic versions of the site, because no one understood the joke.
(Not really. I made that last part up.)
In other news, you'll never guess Twitter's original name, when it was a group-SMS project started by Odeo. Yup… (from Wikipedia)
The original project code name for the service was twttr, an idea that [Evan] Williams later ascribed to Noah Glass, inspired by Flickr and the five-character length of American SMS short codes. The developers initially considered "10958" as a short code, but later changed it to "40404" for "ease of use and memorability." Work on the project started on March 21, 2006, when Dorsey published the first Twitter message at 9:50 PM Pacific Standard Time (PST): "just setting up my twttr".
New Book
I'm in the last stages of releasing a new ebook, inspired by a sermon I gave in April. Walking in the Moment between Tick and Tock is a collection of three inspirational essays, looking at the period between Passover and Pentecost, between Pesach and Shavuot, integrating insights from both Christian and Jewish thinkers. It tells the story of these holidays as linked parts of the same narrative, two ends of a single span.
During the launch, you can easily get a free review copy at timk.me/walking.
Diet Update
Since the last time I posted, my weight has stabilized at 175 pounds (± a few pounds). I still would like to lose a little more fat, so I'm still experimenting. I'm also still walking and doing strength exercises, in order to build muscle and further improve my cardiovascular health.
On the latter, my resting blood pressure measures around 120/80 (± a few mmHg), no BP meds at all.
My latest recipe experiment, with breakfast coffee: 1 Tbsp unsalted butter + 1 Tbsp virgin coconut oil in a cup. Heat for 10-15 seconds in microwave to soften. Add 2 Tbsp heavy cream. Whip with a whisk or stick blender. Fill the rest of the cup with coffee and stir to combine. Top with shaved dark-dark chocolate. (Obviously based on the recipe for Bulletproof® coffee, but not using Bulletproof®-brand beans, which may make me an apostate, but I don't care.) Total nutrition: 322 calories per serving, including 34.2 g of fat (24.7 g of which is saturated, 2.6 g of which is medium-chain). And it tastes really good. This morning I had a double serving.
The Baboons of Power
Still from April, David Kramer posted a longish post on personal power and its abuse:
Someone forwarded an article to me recently about a cheerleader being sued by her school because she would not cheer for her rapist, and another one called Redefining Masculinity. I searched around and found several articles with similar messages. The main point of these articles is that "masculinity" as it is defined in many cultures today, favors power derived from superior strength, aggressiveness, and risk-taking. The Manliest Man is the one who takes what (or who) he wants.
To which I replied (in the post comments) with a story (from Robert Sapolsky) about baboons, stress, and enforcing civility.
Living in a Crooked World
This post by Sherry Riter touched me:
My ultimate goals in life have always been to be loved especially as a wife, mother and writer. Sounds simple doesn't it? What is that unseen thing we call love?…

I am loved by family and friends. I see it and know it. However, after two failed marriages, one of the ultimate goals in my life remains a failure. On a particularly lonely night with my heart aching, I revealed that I want Somebody To Love Me. "'Cause I'm hurt and I'm scared and I'm lonely, all I want is somebody to want me 'cause I've got so much to give." Once again, it sounds simple, but obviously it must not be if I've had two marriages bomb.

I logically know that I can't "make" someone want me, want to be with me or love me…
Sometimes I wish I could just wave a magic wand and realign all the crooked patterns that mix up our lives. Not just for my friends who are wrestling with pain, but for myself, too.
"What a heavy burden God has laid on mankind… What is crooked cannot be straightened; what is lacking cannot be counted…" (Ecclesiastes 1:13-15)
Comfort, comfort my people,
says your God…
A voice of one calling:
"In the wilderness prepare
the way for the Lord;
make straight in the desert
a highway for our God.
Every valley shall be raised up,
every mountain and hill made low;
the rough ground shall become level,
the rugged places a plain.
And the glory of the Lord will be revealed,
and all people will see it together.
For the mouth of the Lord has spoken."
(Isaiah 40:1-5)
Patrick Stewart on Domestic Violence
This has been going round the Internet, a pair of videos of Patrick Stewart (of Star Trek: The Next Generation fame) talking about domestic violence, including his own experiences. A balanced view, with a true heart to help those who are hurting.
Stories like this can't help but remind me that we live in a very very broken world. But by steps, maybe we can help to repair it, what the Jews call Tikkun Olam, "repairing the world."
Here are links to the videos:
Read the "Walking" Book
Seriously. Read it. (Free, for a limited time.) This short book dovetails with some of the same themes from this post, including the following…
Today's Quote
It doesn't have to be perfect. It just has to be better.
(Fett, in an interview with Nancy Moran and Pooki Lee, by Bob Baker)