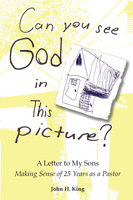 Methodology:
1. Create a list of entrants from the comments on the the giveaway post, numbering them from 1 to 26.
2. Go to http://random.org/sequences/ and ask the page to order numbers from 1 to 26:


3. Select the top 2 results: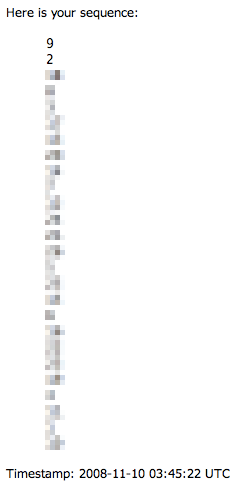 I know I said I was only giving away one copy of this book, but you all sounded so enthusiastic about getting one, that I wanted everyone to have one.
For example, Amandasue said, "I love how its not only about the good that God has done but also about all the hard trials of life." And Wanda noted, "I'm married to a pastor and the mom of 3 teens…..who like you didn't have a choice what their parents jobs were." Cindi said, "How wonderful that he wrote this for you and your brothers." And Elizabeth M. wrote, "I appreciate the raw honesty of your story. Life is ups and downs and that's the only way grow…"
I don't have enough copies for everyone, but I do have 2 copies left, until I get more. So instead of just giving away one copy, I'll give them both away.
If you didn't win, I've arranged to offer a monster discount of half off the price through November 15, if you order from my official online store. That means you can get a copy for less than it would probably cost you to get it printed yourself. In order to take advantage of this offer, click on the button below, and on the checkout screen, use the coupon code BOOKROOMREVIEW.
Coupon Code: BOOKROOMREVIEW
I should also note: This book in my official web shop comes with a no-excuses, 12-month 100% Satisfaction Guarantee. (Yes, that's a whole year.)
The Winners…
I went through the entire process of enumerating and selecting random winning numbers without looking at the two together. As I write this, I don't know who the winners are. So let me open up the two lists (one list of entrants, another of winners randomly selected by random.org) and see who gets the 2 free copies of Can You See God in This Picture?…
Drum roll, please…
The first winner, #9, is… Wanda! Congratulations, Wanda!
And the second winner, #2, is… Terra Heck! Likewise, congrats, Terra!
I hope you both enjoy it and email me back and tell me how you liked it.
So to reiterate, the two winners are Wanda and Terra. I'm emailing them to let them know and to get their postal addresses.
If you didn't win, please feel free to read sample chapters of Can You See God in This Picture? at CanYouSeeGodInThisPicture.com. (I'll be posting more chapters there in the future, and the book will also be coming to Google Books, but Google unfortunately currently takes several weeks to get new titles into their system, probably because the service is still in Beta.) Also, feel free to take advantage of the BOOKROOMREVIEW condolence discount on as many copies as you like. I'll be getting more copies, and can have copies drop-shipped from the printer anyhow, so fulfillment will not be a problem. I'll also be giving away more books here on my blog eventually. In fact, I'm hoping to do a big giveaway for Christmas, if I can pull it together. So stay tuned.
-TimK