The giveaway has completed. I'm keeping this post and its comments here for historical purposes. Click here to see the winners.
---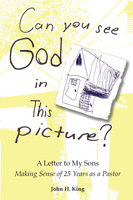 Welcome to the Can You See God in This Picture exhibit of the Bookroomreviews Book Giveaway Carnival.
Here I'll be giving away a copy of my dad's memoir, Can You See God in This Picture: A Letter to My Sons Making Sense of 25 Years as a Pastor.
This is partly the story of my youth. More than that, it's my dad's story. Written as a letter to me and my brothers, it shows how God worked in our life, through both the good and bad. Things didn't always work out as we expected, but they always worked out. Unlike many Christian memoirs, this is not a story of unabated miracles. It's a story of getting beat up and knocked down and tripping up and making mistakes, because that's the greater part of life. The miracles are few and far between.
Growing up in the church often lacks the beauty and meaning that God envisioned
John King's ministry as a pastor and teacher spanned the years from 1969 to 1993. He and his family moved 17 times in those years, and pastored in five churches, once even moving several times while at the same church. Occasionally down to the last jar of peanut butter, faith played a real part in their spiritual journey. And then there were the children.
With nary a negative word for the adults, Can You See God in This Picture? tells the story of what passion for God can accomplish, both constructively and destructively, and explores the angry and stupid things adults do in the church, which children see and remember. Written as a letter to his three sons, and with many personal admissions and anecdotes, this memoir has the potential to bless any whose faith has been tested, perhaps even destroyed, through church power struggles, theological bickering, political infighting, and all the other things that burn out even the good pastors and sometimes even force them out of the pulpit.
How to Enter the Giveaway
Leave a comment below, on this post, in order to enter the giveaway.
At midnight Eastern Standard Time, the night of Saturday, November 8, I'll disable further comments on this post, and I'll select a random winner using the true-random-number generator at Random.org. Then I'll post on this blog announcing the winner.
I'll email the winner. But visit blog.JTimothyKing.com Sunday morning to see if you've won, just in case you miss my email. Read the directions there to claim your prize.
If you win, but don't claim your prize within a week (by midnight EST, the night of Saturday, November 15), another winner will be chosen!
Shipping & Handling
I will pay shipping and handling via USPS Priority Mail to U.S. addresses. For international addresses–or if you prefer a more expensive shipping method–I am willing to pay part of the shipping. (I also may refuse to ship to countries in which this book may be illegal.) Contact me with specific questions.
If you have any problems…
Contact me if you experience any problems.
And don't forget…
Remember to click over to the Bookroomreviews Book Giveaway Carnival, until November 8, and check out the other giveaways listed there.
-TimK
P.S. If you can't wait to read this book…
If you want to read this book, and you can't wait for the giveaway to end so that you can see whether you've won, click here to get a copy directly from my official web shop. If you then win the giveaway, I will simply refund you the price of the book plus shipping & handling from the web shop.
To make sure that your giveaway entry is linked to your web-shop transaction, use the same email address below as you use on the web shop. You should also save your web-shop invoice (which you should receive via email), which you can refer to make sure there are no problems.