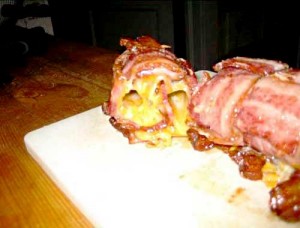 Seen on Twitter & Facebook, courtesy of Allison Driscoll, a recipe for a woven bacon-cheese roll. This is definitely not kosher, and it may not even be legal in all 50 states.
-TimK
P.S. The subject of this post is blatantly and unabashedly ripped off from a funny Frasier quote, regarding "eggs in a nest": "Ah, yes, the Crane family specialty. Fried eggs, swimming in fat, served in a delightfully hollowed out piece of white bread. I can almost hear my left ventricle slamming shut as I speak."
Did you enjoy this post? Why not leave a comment below and continue the conversation, or subscribe to my feed and get articles like this delivered automatically to your feed reader.