My first experiment with using the Dough cycle on our bread machine, to make homemade hot dog rolls: success! True, some of the rolls came out looking a little funny, because I had never rolled homemade bread before. But the good news is that the rolls we rolled last came out the best, so we were clearly getting better with practice.
I made enough dough for a standard size loaf (1½ lb), using the "Basic White Bread" recipe, because I already knew I liked how it tasted and felt with hot dogs. I divided it into 4 equal pieces, and each of those into halves, forming 8 rolls, each the length of a bun-size hot dog.
To form each roll, I flattened it out, dusted it with a little AP flour, and rolled it into a strip a little longer than the final length (because I knew the dough would spring back a little). Then I rolled the dough into a small loaf. After leaving the rolls to rise for another 30-45 minutes, I popped them into a 400°F oven for 10 minutes, until they were golden brown and delicious.
Above, is my plate: kosher dogs with ketchup, yellow mustard, spicy brown mustard, and Howards™ hot-pepper relish, served with zesty curly fries. Here is the Little One's plate; she prefers her hot dogs and fries with lots and lots of ketchup: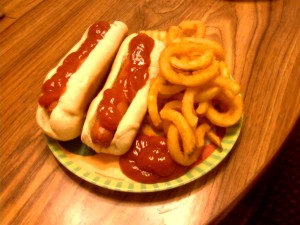 Did you enjoy this post? Why not leave a comment below and continue the conversation, or subscribe to my feed and get articles like this delivered automatically to your feed reader.