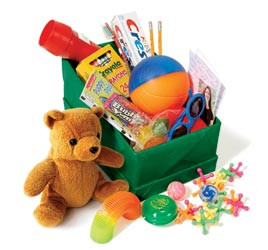 Yes, maybe Thanksgiving Comes First, but in this case, we actually do need to get started on the Christmas stuff early.
This year, as last, my church is participating in Operation Christmas Child, an annual charity drive conducted by Christian charity Samaritan's Purse. Each year before Thanksgiving, Samaritan's Purse collects wrapped shoeboxes, each packed with gifts, and distributes them to poor children around the world.
Last year, we sent out 61 boxes. This year, we already have—thanks to the efforts of a husband and wife team, who are spearheading the drive—numerous wrapped, empty shoeboxes, all ready and waiting for toys, school supplies, hygiene items, hard candy, clothes, jewelry, flashlights, and almost anything else we can get to put in them. We're looking to fill 5 dozen boxes with gifts, all in time to be shipped out the week before Thanksgiving, because that's how much time Samaritan's Purse needs to get the presents to their young recipients by Christmas.
The promotional video we saw yesterday featured Zimbabwe, which is just one of the countries in which Samaritan's Purse operates. This is a country in which the political establishment has actually accomplished that which politicians in more civilized countries can only dream: government looting, official corruption, widespread poverty, and the utter destruction of the local currency through inflation—all to the benefit of those running the economy. The children, as usual, get caught in the middle of it all.
At one point, talking about how overjoyed and appreciative the children are when they receive and open their gift boxes, one of the volunteers in the video mentioned, "It's amazing that whatever they get, it's just what they needed." Probably because they need everything.
Our pastor, who has actually visited Zimbabwe, verified this: "Just the items you can put in a shoebox, it's like giving them Toys-R-Us, the whole store."
I can personally attest to this feeling, as there have been times when my family has been in a similar situation—in microcosm, not even close to what they live with in Zimbabwe. Even in microcosm, there's a feeling that overtakes you, when you don't know where the next week's groceries are going to come from, or you don't know how you're going to pay this month's bills, and you walk into the kitchen to find piles and bags of canned and boxed food, donated by someone who cares. And it doesn't matter what kind of food it is. Your eyes start to well up, because right then, it's the most wonderful sight in the world.
I know it's a tough time for all of us—busy, hit by the recession. Even so, consider putting on an Operation Christmas Child drive in your own church.
More later…
-TimK
Did you enjoy this post? Why not leave a comment below and continue the conversation, or subscribe to my feed and get articles like this delivered automatically to your feed reader.