Yesterday, we finalized From the Ashes of Courage and sent it off to the printer's. We'll get a pre-order page for autographed copies up on the shop ASAP. Amazon and BN.com &c should have it on their sites by February 1, and Google Books &c soon thereafter.
In the meantime, I've released the ebook version, which I'm making available for free download, at least for the time being. We're going to be distributing this ebook (as well as my other recently released ebooks) via other sites, such as Amazon and Smashwords, too. That process is… uh… in process.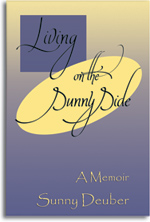 Teaser Tuesdays
Last week, I posted a "Teaser Tuesdays" post over at my Facebook page. But I think I'll start posting it here instead, either posting the teaser in its own post or on another short post.
Teaser Tuesdays is a weekly bookish meme, hosted by MizB of Should Be Reading. Anyone can play along! Just follow the instructions in the weekly "Teaser Tuesdays" prompt there.
I just finished reading Sunny Deuber's independent memoir, Living on the Sunny Side. (BTW, she's made the PDF ebook available for free download from the book's site.) My brief review:
Her adventures excited me, though the story often felt bitter, and it seems each one ended in crap. In the end, the story is about the thrill of the adventure, that the adventure is worthwhile for its own sake, no matter how it turns out. I will definitely continue searching for more independent memoirs, like this, to read, because it (like other similar works) gives a privileged view into the mind of someone so much unlike myself.

4 out of 5 stars: I liked the book, and want to read more like it.
And here's my two-sentence teaser, from p. 143:
I didn't shower before they arrived; didn't put on any makeup,
didn't even take my hair out of its pony-tail or change out of the
sweatshirt and hideous green pants I was wearing… Almost
immediately, Mary's new [boy]friend began throwing small, harmless stuff
at me—crumpled-up gum wrappers, little paper balls from the soggy
napkin under his drink, and anything else close at hand.
-TimK
Did you enjoy this post? Why not leave a comment below and continue the conversation, or subscribe to my feed and get articles like this delivered automatically to your feed reader.