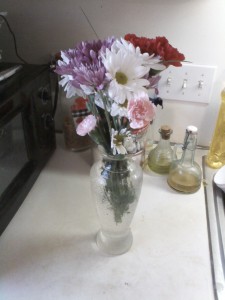 As it's two days before Valentine's Day, instead of coming up with a proper "Friday Fun" post, I thought I'd slack off and just list some of my all-time favorite romantic movies (and TV show episodes).
(BTW, pictured to the right are the flowers I bought for the Missus this year, which she picked out, and which I paid for with money she had earned. But apparently they're still sweet and quite special. See what I mean when I say that I'm "the husband of a wonderful wife," and not the other way around?)
And now, here are the movies…
The Lake House – Sandra Bullock and Keanu Reeves get sucked into a time-warping mailbox, where they dance to a song that hasn't been written yet. A wonderful melding of intense romance and cheesy sci-fi. Made my cry. (Won't tell you why.)

Gilmore Girls episode "Love, Daisies and Troubadours" – The town troubadour demands the town enforce his rightful monopoly to play music on the streets of Star's Hollow, and Rory explodes, because she's actually still in love with Dean and can't bring herself to tell him. Meanwhile, Max buys Lorelai 1,000 yellow daisies—not 999, not 1,001—because it's better than chopping Luke's head off. Lorelai cries but still doesn't know whether she wants to accept his proposal of marriage, even though he's a great guy and she's in her mid-thirties and not getting any younger.

Star Trek: The Next Generation episode "The Inner Light" – An alien probe penetrates Captain Picard's head with a technobabble energy beam, and within his mind he lives a complete lifetime on an extinct alien planet. When he wakes up, he magically remembers every last detail about that place, and his life quickly returns to normal. Romantic because Picard falls in love with his make-believe alien wife and has a family.

Waterloo Bridge – A long-forgotten classic. In World-War-2 Britain, Vivien Leigh falls in love with a soldier, but he gets shipped off to the front before they can marry, so she turns to whoredom. Meanwhile, Robert Taylor stands on a bridge and sulks. A bittersweet tale of love and loss.

Broken English – Parker Posey plays a 30-something lonely woman stuck in a boring existence, who unexpectedly meets a stimulating French man, who stimulates her into miserably clinging onto her 30-something lonely boring existence, until she loses his phone number. (Seriously, though, Broken English is a wonderful example of a life-expanding story, the kind that I adore.)

City Lights – Charlie Chaplin, the little tramp, pretends to be a wealthy nobleman to a blind flower girl, who obviously can smell only as well as she can see. They fall in love, but when she needs money for an operation to miraculously restore her sight, rather than assuming her to be huckster, he begs, borrows, and steals the cash, eventually landing himself in prison. Ends with one of the biggest moments in film history, in which she finally realizes he's a bum and discovers she didn't actually love him after all.

I'm Reed Fish – Schuyler Fisk (whose name is not pronounced as it is spelled) plays Shiri Appleby playing Jill Cavanaugh, the high-school crush of a character played by Jay Baruchel, who plays Reed Fish, who plays John Penner, who appears only in a cameo role in the film. Then one of the Reed's meets one of the Jill's on top of an old lady's roof, where they watch the stars. (Watch them do what? I don't know.)

A Good Woman – Helen Hunt seduces a wealthy lord, while his wife remains blissfully ignorant. That itself is worth the price of admission. But all is not as it seems, as she has a deeply buried secret, and the man may not be sleeping with her after all.

Moonstruck – Cher plays the only daughter of an Italian immigrant family who actually has a last name, and she sleeps with the brother of her fiancé (whose mother is near death), which apparently is a pretty big sin, requiring quite a few Hail Mary's and Our Father's to fix. But when Nicholas Cage gives a rousing speech about how much love hurts, she slaps him and sleeps with him again. Very kinky.
Your turn. What are some of your all-time favorite romantic movies?
-TimK
P.S. In all seriousness, these actually are some of my favorite love stories, and I fully recommend them all.