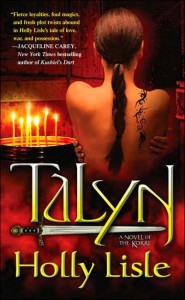 Driving up the Maine Turnpike this weekend, I took pause from, of all things, the landscape. Not just from the beauty of it, but I got a feeling that it was distinctly American. In Maine, the culture still retains some of the human community values that I often associate with the original Americans. And for just a moment, I could imagine myself dwelling on the unpaved American landscape, with pride.
I wondered what would have happened, had those of our progenitors not been decimated by disease in the 18'th century, how different might our history have turned out. And I promised myself I'd think about writing an epic fantasy or SF story about it, with a fictional people locked in the same conflict, facing the same issues. And then I discovered that Holly Lisle had written than story.
Actually, I don't know yet that Holly has written the same story I wanted to write. I only know that over the weekend, I had a great deal of time to read. I picked up Talyn, which I had just started. And I found as the story developed that Holly was exploring many of the same issues I wanted to explore, and from a similar perspective. And I found that she had done so by creating a fictional world rich in history, culture, and human need.
And magic. In the world of Korre, where Talyn lives, people use magic as technology. Talyn herself is one of the Magics, a person who has a talent for magic, and in her job as a Shielder, she protects her tāak and her country from the magic attacks of the Eastils.
That's really just an ice cube off this iceberg. I'm already finding, however, that I'm becoming immersed in this culture and with these people. As an author, I read a lot of crap, and even some stuff that longs to be as good as crap. And to delve into a story as enchanting and engrossing as this brings sheer Wow!
Today's teaser, from page 251 (randomly selected by Random.org) of Talyn:
Skirmig stared into Talyn's darkened room where she lay, a coiled shadow-shape beneath the covers. She slept deeply, and if he had done his work well enough, she would sleep for a handful of days, and wake refreshed and remembering only the version of events that he had planted in her mind.
Teaser Tuesdays is a weekly bookish meme, hosted by MizB of Should Be Reading. Anyone can play along! Just follow the directions at the "Teaser Tuesdays" post.
-TimK