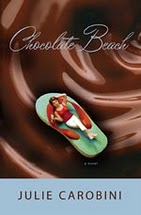 Meet Bri Stone, a laid-back beach chick from Ventura, California. Bri has it all: the man of her dreams and their surf-ridin' teenage son, a chocolate-loving best pal, an adorable beach bungalow, and a kicky job as a Southern California tour bus host. She also has a few things she didn't ask for: a know-it-all friend, a snobby mother-in-law, and a Fabio-meets-Dilbert boss. Ack! All three of them seem eager to share their strong opinions and suspicions about Bri's relationship with her husband, Douglas. When Bri's rose-colored sunglasses crack after she finds evidence that Douglas has grown tired of her carefree ways, she resolves to win him back. Can she reinvent herself—and recapture her husband's heart?
I'm giving away a new, autographed copy of this Christian beach read, Chocolate Beach, Julie Carobini's debut novel, which arrived at my home office this past weekend direct from Julie's online beach shop. See the bottom of this post for instructions on how to enter the giveaway.
(BTW, I'm also giving away a copy of the sequel, Truffles by the Sea, in another post. Be sure to enter for a chance to win that one as well.)
What They Say
According to Narelle Mollet of titletrakk.com, "Julie Carobini's first novel is a delight! It is chock full of eclectic and entertaining characters, laugh out loud humor and a message not to be missed."
Says Cindy Mealer (ck2skwipsandkritiques.com), "Chocolate Beach is a fun, quirky read that is perfect for a sunny day—whether on the beach or off."
And Heather Ivester, christianwomenonline.net: "Julie Carobini's debut novel will warm you to your toes with quirky dialogue and characters you want for your new best friends.."
What I say: "Started slowly—not necessarily a bad thing, as some wonderful stories start slowly. After a hundred pages or so, I was falling in love with the characters, and enjoying the story increasingly as I went along. And I simply loved how Bri's fears and suspicions resolved. (Poor Bri! How many times have we done something like that?) I'd like to read more books like this."
How to Enter the Giveaway
Leave a comment below, on this post, in order to enter the giveaway. Be sure to enter your email address in the appropriate field below. (It won't appear on the website, but if you don't leave me your email, I'll have no way to verify your entry or to contact you when you've won.)
On the morning of Friday, December 17, I'll select a winner at random. (One entry per unique email address.) I'll email the winner to find out where to send the book. And if you respond quickly, you'll probably have it in time for Christmas!
Big Book Giveaway
Check out the other book giveaways from Big Book Giveaway 2010-2011.
Subscribe to this blog for future updates. Or go to my Facebook page and click "Like." Or follow me on Twitter.
-TimK