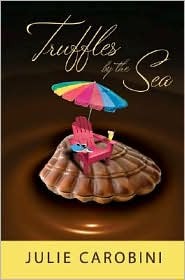 Determined to turn her life around, Gaby Flores moves to a beachfront loft, takes on a new motto–Be gullible no more–and begins to rebuild her flower store while searching for Mr. So Right. But when a lawsuit, an eviction notice, a near-empty bank account, and quirky neighbors invade her beachy world, not even chocolate can solve her worries as her fledgling faith is put to the test.
I'm giving away a new, autographed copy of this Christian beach read, Truffles by the Sea, Julie Carobini's debut novel, which arrived a couple weeks ago, direct from Julie's online beach shop. This is the sequel to Julie's debut novel Chocolate Beach, which I'm also giving away, in another post.
What They Say
Says Cara Putman of WriterInterrupted.com, "While keeping the light chick lit tone, this book satisfied while avoiding the tired old formulas."
"Truffles By The Sea was so delightful to read. It is a perfect, 'take to the beach' kind of book, or just reading it you feel like you are escaping to the beach," according to Amazon reader Lori Kasbeer
.
I say, I liked Truffles by the Sea more than the first book, got right into it and ended up loving it. This story also contains some of the same defects (as it were, according to some critics) that my own stories do, so I'm in good company, and that makes me happy. And the last chapter had a huge, satisfying "Wow!" moment, which I loved.
How to Enter the Giveaway
Leave a comment below, on this post, in order to enter the giveaway. Be sure to enter your email address in the appropriate field below. (It won't appear on the website, but if you don't leave me your email, I'll have no way to verify your entry or to contact you when you've won.)
On the morning of Friday, December 17, I'll select a winner at random. (One entry per unique email address.) I'll email the winner to find out where to send the book. And if you respond quickly, you'll probably have it in time for Christmas!
Big Book Giveaway
Check out the other book giveaways from Big Book Giveaway 2010-2011.
Subscribe to this blog for future updates. Or go to my Facebook page and click "Like." Or follow me on Twitter.
-TimK