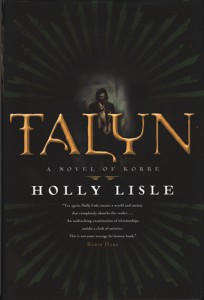 A conscripted warrior-mage, lover of the outlander who ended her country's 300-year war, rescues her nation's worst enemy from death to battle her lover and end imposed peace.
Yeah… I guess that sums it up, if a book like Talyn can be summed up. But that short description really does the story no justice.
The cover blurb is a little better, which begins: "In a world where technology is magic, and war is the only way of life, Talyn is a soldier, one of thousands trained from childhood to protect her country from the monarchist Eastil, who would take away the personal freedoms of the Tonk."
This is a story about the love of freedom, the abuse of power, the illogic of war, civility enforced at the muzzle of a gun, self-defense and defenselessness, and the forces that bring down mighty nations, and form and destroy cultures.
Today, I'm giving away an original hardcover copy of Talyn. And I'm giving away a copy of Hawkspar, the second book in the series, in another post. Because these titles prove the point that an author's latest work should be the best she's ever written. They don't make these hardcover copies of Talyn anymore, but I managed to get my hands on one. Truthfully, I'm tempted to keep it myself. I opened the package and swooned, wowed, sniffed the pages— you know, all the things you do to a beautiful, new book. Besides, my mass-market paperback is already wearing out, and by the time I get done re-reading it and re-re-reading it, it'll be in tatters.
What They Say
"Not your average fantasy book," according to Robin Hobb.
Me: From the very first pages, Talyn effuses inspiration. I read a lot of crap, and even some that longs to be as good as crap. This story is the opposite of crap. To delve into a story as enchanting and engrossing as this brings sheer Wow!
This book should've been an order of magnitude more popular than Twilight, were it not for Sturgeon's Law. A book with as rough a birth as any book gets. An epic story born of an epic concept that was years in the making. According to Holly, "the best world I'd ever built, with the best cultures, the best people, and the best stories in my career."
How to Enter the Giveaway
A WARNING: This story addresses adult subjects and contains explicit sex and disturbing violence. Some of these scenes literally made me seethe (part of the reason I think this book is so effective). They are integral to the story, and I don't think Holly could've told the same story—a story that needs to be told—without them. However, if you are prone to hate stories that portray sex and violence, you might want to think twice about this book.
Leave a comment below, on this post, in order to enter the giveaway. Be sure to enter your email address in the appropriate field below. (It won't appear on the website, but if you don't leave me your email, I'll have no way to verify your entry or to contact you when you've won.)
On the morning of Friday, December 17, I'll select a winner at random. (One entry per unique email address.) I'll email the winner to find out where to send the book. And if you respond quickly, you'll probably have it in time for Christmas!
Big Book Giveaway
Check out the other book giveaways from Big Book Giveaway 2010-2011.
Subscribe to this blog for future updates. Or go to my Facebook page and click "Like." Or follow me on Twitter.
-TimK