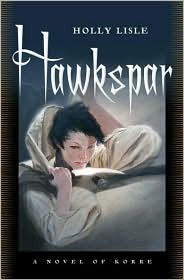 Stolen away from their families, they are slaves, women with no names and no futures. Every moment of their days controlled by the avatars of the stone Eyes–Obsidian, Emerald, Raxinan, Ruby, Windcrystal, Sapphire, Sunspar, Tigereye. And the most powerful of them all, Hawkspar, the eyes of time. Kings and despots come to her to know their futures, and she wades in the river of time, pulls apart its sticky threads, to arrange the world to her satisfaction. But she too was once a slave, plucked from her home, chosen by the Eyes to live in service to them, as much a slave now as she ever was. And with her sight into past and future, she can see the secrets of the Eyes–and the evil of the Eyes. Before the death of Hawkspar, another must be chosen by the Eyes–but the avatar has her own plans, and chooses a slave for her courage and rebelliousness, rather than her dedication to the goals of the Eyes. This slave is put to trial, but time after time, she is protected by forces unseen. Once she has swallowed the bitter liquid and has her eyes pulled from her head and replaced with the Eyes of Hawkspar stone, she can slip into the streams of time… and use time to her own ends — to free the slaves once and for all, and destroy the Eyes, even if it means destroying herself in the process.
I'm giving away a new hardcover copy of Hawkspar, which I'm still reading, but which I'm loving. Of course, I knew I was going to enjoy it. Holly Lisle is one of my favorite contemporary authors, because all of her books are worth reading. Hawkspar is not really a sequel to Talyn, a copy of which I'm also giving away, but it's set in the same world, set some time after the events of Talyn took place.
How to Enter the Giveaway
Leave a comment below, on this post, in order to enter the giveaway. Be sure to enter your email address in the appropriate field below. (It won't appear on the website, but if you don't leave me your email, I'll have no way to verify your entry or to contact you when you've won.)
On the morning of Friday, December 17, I'll select a winner at random. (One entry per unique email address.) I'll email the winner to find out where to send the book. And if you respond quickly, you'll probably have it in time for Christmas!
Big Book Giveaway
Check out the other book giveaways from Big Book Giveaway 2010-2011.
Subscribe to this blog for future updates. Or go to my Facebook page and click "Like." Or follow me on Twitter.
-TimK