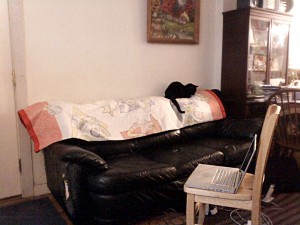 [UPDATE, October 2013: My daily routine has changed massively since this post, especially since we moved into the Merrimack Valley. These photos are also two cars ago, and one diet ago—and unfortunately Panera Bread no longer fits into my diet. But I do still visit some of the other places on this list, and I still write on my couch, though I've lost a lot of weight since that photo.]
---
I've been posting photos of my personal writing spaces on Facebook. It all started as a project, created by Estrella Azul, in the #FridayFlash group there, with a number of writers sharing photos of their personal writing spaces.
(Click on any of the photos in this post for a full-size version.)
Me, I don't have a fixed writing space. But I frequent a few favorite locations, whether writing prose or writing software. One of these, my own living room. I stretch out next to my spooky cat, turn on Music Choice to jazz or classical, or even easy listening— Hey, don't laugh: it relaxes me. Unfortunately, the television sits there in the same room, and NetFlix. That can prove quite a distraction, which probably accounts for why I'm so exhausted and I still didn't get any actual work done.
(Actually, I'm just kidding about that.)
Catnapping for a Living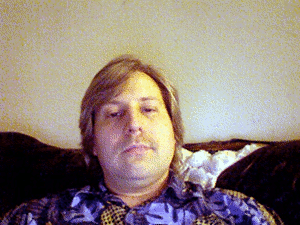 This is the first set of photos I put up of "my personal writing space," just as a joke. (Really. For true. I'm not lying. I actually did intend it as a joke.)
Office-in-a-Bag
It slices! It dices! The centerpiece of my writing space, my "office-in-a-bag":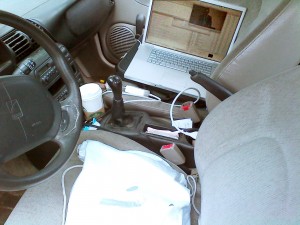 The bag itself changes from time to time. (Like a transformer.)
The contents, however, remain relatively consistent: a MagSafe power adapter for my MacBook Pro, a pair of headphones, a cell-phone headset, a book, and a USB cable for my ebook reader. I seldom set up my office in my car, but I do have a power-converter (which the laptop is plugged into in the photo), so that I can keep the computer charged on the road. Maybe someday I'll get a 4G mobile hotspot, and then I'll truly be able to work anywhere.
In the Morning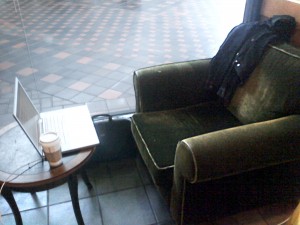 One of my favorite places to write in the early morning, the Starbucks at Pheasant Lane Mall in Nashua, NH. They open at 8 AM, before most other stores in the mall, and the place is empty and quiet. I plop down in this comfy chair with my MacBook Pro and a cup of yummy. Ah. And write.
Or surf the web.
Occasionally, I'll spend a morning at Panera Bread on Drum Hill Road, in Chelmsford, MA. I love their jalapeño-cheddar bagel sandwich, with a large hazelnut coffee. (Sorry, I already ate the breakfast sandwich before taking the photo below. I couldn't wait. The cherry danish was a freebie for me today.)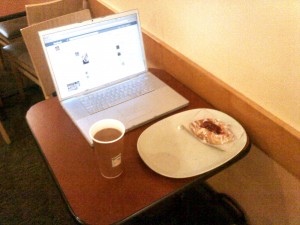 As you can see, however, I don't usually get too much writing done here.
They also have a fireplace, with real flame but fake logs. During the cold, winter months, when my toes feel like they're about to fall off, I love to stretch out before it in one of the comfy chairs and read a book or write on my laptop.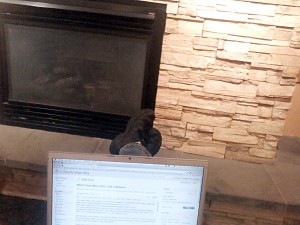 Sans roaring fire, because the cold weather is gone for the season (knock on wood). Just imagine that little blue flame—and if you squint you might just be able to see it there—as a bundle of toasty, warm radiance. And also imagine that I tramped through 3 inches of slush in order to get there. Eh? See whyI like it here?
My First and Favorite
But my first and favorite Starbucks lies at Treble Cove Plaza in Billerica, MA.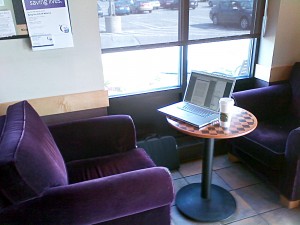 I had discovered this Starbucks last autumn, and fell in love with the mid-mornings and mid-afternoons… and the comfy chairs. One of the employees here even inspired a short-short story I wrote last October, entitled "An Indelible Design."
This is the Starbucks across the parking lot from this interesting storefront couplet, which you may remember from an earlier post: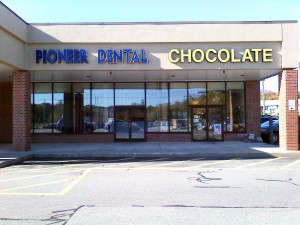 There are of course numerous StarBucks locations around here, many of them inside of Barnes & Noble bookstores. But for some reason, I've never been able to get much work done in any of them. I don't know whether I just get distracted by all the books everywhere or what. Maybe it's because it's harder to get at the comfy chairs. I love the comfy chairs.
Anyhow, that's what I've been doing with my time lately, and where I've been doing it. I think the message is clear: if you want to support my writing, you should send me a StarBucks eGift card.
-TimK
P.S. That last line was slightly tongue-in-cheek. But for the record, I wouldn't refuse one.
P.P.S. You can send it to timk @ JTimothyKing . com.
Did you enjoy this post? Why not leave a comment below and continue the conversation, or subscribe to my feed and get articles like this delivered automatically to your feed reader.