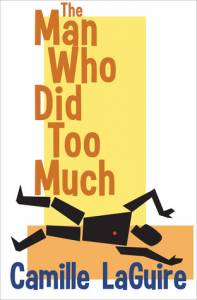 As I mentioned last week, I'm reading The Man Who Did Too Much, a comic murder mystery by Camille LaGuire… a fact that I forgot to note on my GoodReads profile. (Sorry about that.)
I don't know much about the "comedy" part, as this story has not yet made me laugh out loud. [UPDATE: Okay, it has now made me laugh out loud. Definitely funny, and in an intelligent, situational sort of way.] But it has felt light and airy, low on the physical danger and suspense, not inducing too much anger or fear. Of course, I also haven't yet witnessed the murder, although there is clearly danger afoot.
But the aspect of this story that strikes me—and as I expected based on Camille's other work that I've read: I've just started reading the novel, and already I luuuv the characterization. I don't know whether Camille uses character-creation techniques similar to mine; regardless, she hits the characters' emotional needs and reactions right on the money, weaving compelling story conflict and (therefore) a compelling plot.
So I am in into this story, and I wish I had more time to read it faster.
Today's teaser, from location 211-215 of The Man Who Did Too Much:
He looked across the street at a Chinese restaurant, which was shaped like a fake pagoda. The food was probably awful, but frankly right now he longed for anything other than a cheeseburger. Something with garlic, ginger and coconut milk. Or even just too much soy sauce and MSG. Something other than cheeseburgers and pizza. But smell evokes memory, and memories were still a problem for Gwen. Even pickles reminded her of lime and fermented fish, which was the predominant seasoning in Tolongao. The smell of any Asian food tended to set off bad dreams and flashbacks.
---
Teaser Tuesdays is a weekly bookish meme, hosted by MizB of Should Be Reading. I'm trying a variation on the mainstream "Teaser Tuesdays" concept. Instead of quoting two sentences from a random page in the book, I'm selecting a snippet that reflects qualities I find in the book.
-TimK