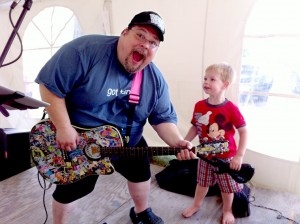 Something a little different and quirky and reminiscent (in a good way) today.
If you have young kids and you've never heard of Billy Grisack, you'll want to hear this.
If you have ever had young kids (like me), and you want to remember the good times, like dancing and jumping to fun and energetic music, stuff that we old fogies find it ever increasingly difficult to pull off ourselves (without looking stupid)… Sigh.
I so wish I had known Mr. Billy on the Internet when my girls were that age. That would've been fun. Not that we didn't have fun with Lionel and his Ice Cream Songs, because we did. But he never released 12 CD's in 12 months— which Mr. Billy did in 2012, and frankly, I don't know how he's gonna top that. (Do any of you fellow indie authors want to publish 12 books in 12 months? Or would that be "13 books in 13 months for 2013"?)
So… breaking from the bookish meme that is "Teaser Tuesdays" (which I do occasionally), and for the little kid in all of us (and right now jumping on the bed of some of us), and with allusions to Jurassic Park (which has never traumatized the little kid inside of you), here enjoy Mr. Billy's "I Like Dinosaurs" music video:
-TimK