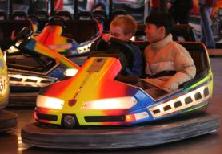 (This post is especially for visitors coming from Liz Strauss's "Successful and Outstanding Bloggers" blog… (Whew!) … at which I am participating in her "Blog-to Show." But regular readers of this blog may also find this post interesting.)
A long time ago, this was a different blog than it is today. Back when I still had a 9-to-5 software-development job, I started this blog to talk about software development, management, and my dream of running my own software business. Back in those days, it was fairly easy to get hits from sites like reddit's programming communities. The most-widely-read-of-all-time post on this site is from those days: "You Know You're an Old Fogey Software Engineer When…"
My second-most-read post is also from that time, but for a different reason. "Did FedEx Finally Deliver?" has gotten (and still gets) thousands of hits from search engines, for people looking for the phrase "Delivery exception." Poor FedEx. Haven't they yet learned how to deliver a package?
Then I actually did it. I quit my job and "escaped cubicle nation," as Pam Slim puts it. I took on an independent contract, as part of a virtual software development team. That is, the group of us all work from our home offices, some of us on the east coast, some on the west, some in between, and we coordinate our efforts over IM and IRC. A cool way to work.
Plus, this gives me freedom to explore business opportunities. I played with a bunch of stuff, tested out numerous ideas. Finally decided to write a novel, The Conscience of Abe's Turn, and start my own publishing company. This, despite the fact that everyone says selling a self-published novel is hard. And despite the fact that I believe them. But I have more plans for this career than just a novel, and I'm pretty confident that these plans will pan out.
I still write about software development in this blog and about life in a Dilbert cube, from time to time. After all, I still do develop software, and I still remember what it was like to work for a boss. But I also post snippets of my fiction, and I post about being a writer, and I post about marketing and running a business, and about innovation and entrepreneurship, and even a little about religion and politics and personal stories and whatever else I feel like.
And that is why this blog is subtitled "Stories of a Self-published, Entrepreneurial Fiction Author (née Software Guy)."
-TimK
P.S. See the recently popular and all-time popular posts listed below!
P.P.S. Note also my home site, and my other sites which are linked to therefrom.
---
Some recently popular posts:
Some more all-time popular posts: