I haven't blogged in a long time, because I've been editing my upcoming novel. (And I'm keeping notes, so that I can blog about the experience. First lesson: Editing your first full novel will take 5 times as long as you think it will.)
But this week I got a direct mail piece from my cable provider, RCN, who in the Boston area is eliminating its analog channels and switching completely to digital. The 5.5-by-8.5-inch, full-color oversized postcard did get my attention. So the headlines were… uh… effective. But the message behind the piece was so haughty, so nasty, so badly conceived, I just had to take a moment out of my blogging sabbatical to skewer RCN for this egregious marketing faux pas.
Yeah, it caught my attention. And it made me angry, so incensed that I actually considered switching to Comcast. (The Comcast guys are always begging me to switch. But I never do, because I don't usually expect to be treated any differently by them.) But after I did a little research–for the information RCN should have shoved in my face–I found out that this change is actually good for me, the customer. (Hmm… RCN has been losing customers of late. I wonder how many RCN customers will go through the same effort I did to get at the truth of the situation.)
Starting with the front: "TIME IS UP!" And then, "Get your converter boxes or you'll lose your RCN programming." That's actually pretty good. Captures my attention with a one-two punch. I do indeed want to continue receiving RCN programming, and the warning that I could lose it is very effective. Similarly, on the back, "This is your FINAL NOTICE." Excellent headlines. I've got the message. I need to take action, and I need to take it now, or else I will be sorry.
After that, however, the piece falls apart: "As previously notified, [in other words, it's my fault, not theirs, even though I do not recall any previous notification] you MUST have a converter box on every TV… or you'll NO LONGER RECEIVE RCN PROGRAMMING on that television." The copy then goes on to explain that while the first converter box is free, additional television sets will cost me an extra $2.95 a month each. So, it's my fault, apparently, that they're strong-arming me to rent converter boxes I don't really want at 3 bucks a pop? Oy vey!
The Bulleted Feature List
The bulleted feature list is the centerpiece of any marketing copy. Unfortunately, this card does not have one.
After my initial shock and revulsion, I looked into the situation. And you know what? It's not as bad as they make it sound. They actually do allude to the feature list in the copy, with a short half-sentence, "… you'll enjoy more entertainment choices than ever before." Unfortunately, that's vague enough to be less than useless. Especially next to "$2.95 a month per box" or else they're going to take away my programming.
Any copywriter worth his paycheck knows how important the feature list is. But RCN doesn't mention it in this piece. They don't even seem to know what it is. If I were putting together this direct-mail piece, here's what I would start with:
digital quality
80 channels you can't get with analog cable
155 channels total (note not 370 channels, as they claim on their website; if there are actually 370 channels, you get them only if you buy all the upgrade and premium packages; and I only counted 155 channels in their latest channel guide, not the 180 they claim are included as standard)
30 HD channels
46 Music Choice digital music channels (again, I counted them)
Video ON DEMAND
access to Pay-Per-View
parental controls
channel capacity: each analog channel = 10 SD digital channels
Rewriting the copy
Taking an admittedly shoddy, first crack at rewriting this ad copy, here's what I came up with:
Note: The following is a mock-up I've created. This ad has not been run and this offer has not been made, as stated here, by RCN. That is why I've struck through the name "RCN" in the copy that follows.

This is your FINAL NOTICE

We're switching all of our programming to digital. That means you need to act now in order to get RCN converter boxes for all your TV sets that receive RCN programming, or else you'll NO LONGER RECEIVE RCN PROGRAMMING on that television.

But if you do act now, with the new all-digital RCN cable TV, you'll get digital quality on every channel, 80 channels you can't get with analog TV, 155 channels in all, including 30 HD channels and 46 Music Choice® digital music channels, plus Video ON DEMAND, parental controls, and access to Pay-Per-View. All at the same price you've been paying. Plus, because each analog channel takes up the space of 10 standard-quality digital channels, we can offer hundreds more channels of programming in the future, choices that we simply can't offer you right now. For more information about these exiting new features, visit rcn.com/digital.

You'll lose programming on:

July 22, 2008

… unless you act quickly. For a limited time, YOUR FIRST STANDARD CONVERTER BOX IS FREE, and additional boxes are only $2.95 a month per box.

Call XXX-XXX-XXXX and have us mail them to you for FREE so you can install them yourself.
Pick them up at: [addresses]
Or call XXX-XXX-XXXX to schedule an appointment to have one of our technicians install them for you for a $49.95 fee.
Note also that I'd get rid of the black background, because that's way hard to read. And I'd use a red headline, because they actually do get better results. I'd also get rid of the last, useless paragraph: "For TV how you want it, when you want it–add an HD converter box (HDTV required) or add an HD/DVR converter box and pause, record and replay live TV." Probably, anyone who has an HD TV already has upgraded to an HD box.
But I would train the people at the call center to up-sell to the RCN PREMIER package. (When I called, the woman I talked to didn't mention any up-sell.) I'm not saying a high-pressure up-sell. I'm just saying, make the customer aware that it's only $N to upgrade, now that he already has a converter box. RCN could even sweeten the deal with a free-trial period.
Every customer interaction is a marketing opportunity
Every direct-mail piece, no matter its function, should be designed as a marketing piece. It should have a captivating headline, a list of specific benefits and features, and a call to action. And it should be written to convince the recipient to take action. This piece by RCN had the headline, and then it failed.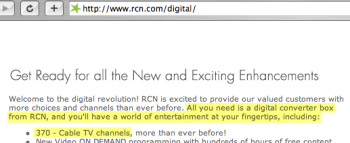 A misleading claim made on RCN's website. (Highlighting is mine.) In actuality, you only get the "370 – Cable TV channels" when you upgrade to the premium packages.
Of course, it's a cable company. Even as the underdog, RCN is still in the odd position of not having any significant competition. Choosing between the two cable providers I have access to is like choosing between the Republicans and the Democrats. At the end of the day, it really doesn't matter. So they can afford to say one thing and do another. They can afford to make claims that may be misleading (like the statement on RCN's web site, at right, that I'll get 370 channels of programming because they're converting to digital). They can afford to let it sound like they're pushing us around occasionally, as long as it's for a good cause.
But you and I are not in that position with our customers. So take care.
Start with an attention-grabbing headline.
Don't blame your customers for your inability to get through to them.
Do make them feel like they'll be missing out unless they act.
Make them an irresistible offer.
Offer specific features and benefits–the more specific the better. (And do have someone actually sit down and count the number of channels in your channel guide to make sure it's the same as the number on the sales copy.)
Put a deadline on the offer, a ticking time bomb that will go off unless they act now.
Give them a clear call to action.
Offer them an up-sell, but only after they choose to act.
-TimK
UPDATE: There's more to the story. There actually was an implicit rate increase, which I guess they must have forgotten to tell me about. (Or maybe they just couldn't figure it out themselves.)