Some years ago, A&E ran a special miniseries of Columbo episodes called Columbo's Favorite Columbos. Peter Falk chose his four favorite episodes from the original NBC series and introduced each one.
Today, I thought I'd do the same thing, with my own 4 favorites. Except that aside from the original episodes, I'm also including any episode run to date, including the made-for-TV movies produced in 1989 and following.
First, a quick shout out to K., who sent me an inspiring email about my recent blog posts and how interesting they were. Thanks so much! I don't think readers (myself included) realize how good it makes a writer feel when you tell him you enjoy something he's written. Me, all smiles!
Troubled Waters (1975)
It's murder on the Love Boat! One of my favorite original-series episodes, from the fourth season. Columbo and his elusive wife won a cruise to Mexico, but on the first night of the cruise the captain enlists Columbo's help, because the singer, the beautiful Rosanna Wells, has been murdered, shot through the heart in her cabin. Meanwhile, the ship's captain believes they've already caught the killer, the framed pianist Lloyd Harrington, and Columbo must convince him otherwise.
In classic Columbo style, you can see how the grizzled detective finds out who the killer is, from the very beginning, and how he leads the fiend along, collecting evidence all the way, until he finally lowers the boom.
This episode ranks alongside "A Friend in Deed" (1974), where Columbo must go up against the police commissioner himself, who not only murdered his wife but also covered up for his friend, who also murdered his wife—a double murder with an airtight alibi.
But "Troubled Waters" takes place on a cruise ship, and I liked the Love Boat—yeah, so sue me—and so that pushes this episode over the top.
Columbo Goes To The Guillotine (1989)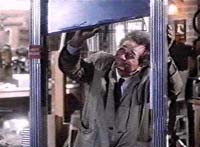 I love magic and the study of magic, and this is an episode about magical illusions. It was also the first episode to air after more than a decade, since "The Conspirators" (1978) temporarily closed the Columbo casebook. Also a great episode, by the way. (Full's Irish Dew. "This far, and no farther.")
In this episode, as he did in "Now You See Him" (1976), Columbo must penetrate the illusions of a magician, this time a mentalist, who has murdered a fellow magician, cut off his head with a trick guillotine and made it look like an accident.
I'm not very good at performing magic tricks, but I love to watch others perform, and to learn how they accomplish their illusions. That's one of the reasons Penn & Teller is my favorite magic team, and also why I love the masked magician. And furthermore, why I uniquely enjoyed this episode.
Sex And The Married Detective (1989)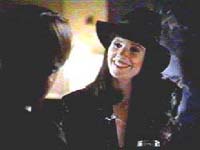 "If I were a dessert, what kind of dessert would I be?" It's the lady in black. She's the character who draws me to this episode. There, I admit it. Hubba hubba. Plus that sexy music that always plays every time she comes on-screen. What man could resist? Especially one who, like me, has a penchant for brunettes.
In this episode, when sex therapist Dr. Joan Allenby discovers her boyfriend in bed with her personal assistant, she disguises herself in dark contact lenses, a long, black wig, dark hose, a skimpy black dress, and a black fedora. She pretends to be a courtesan and engages her boyfriend in a little role- and gun-play. Columbo then sets out to find this evasive "lady in black," and he finally does (as always) in a brilliant, surprise ending.
This episode was almost a toss-up with "Murder, a Self-Portrait," which also aired in 1989. (Yes, 1989 was a very good year for Columbo fans.) I mean, beautiful women, nude models, polygamy. What could I possibly have to complain about? Actually, it was the dream sequences. Back in the day, I thought they were genius. But since then, I've come to believe that they are unrealistic, because the dreams take place in Vito's Bar (where a murder had occurred), and Max Barsini (the murderer) appeared in the dreams as himself. In a real dream, the setting and characters would appear in metaphor, as the other elements of the dreams did. A minor point, and otherwise a great episode.
No Time to Die (1992)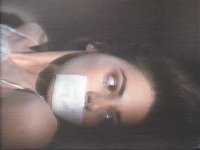 Previously, when the writers had broken the Columbo mold, they put him in the middle of a classic murder mystery. That was in "Last Salute to the Commodore" (1976), an episode that lost the Columbo charm, because you didn't know who the murderer was, so you couldn't see how Columbo taunted him at every turn. In fact, each character thought he himself was the murderer, because each one had manipulated the body in some way, as I recall. So even Columbo must have been confused.
But "No Time to Die" turned out much more interesting, maybe because there was no murder. Rather, Columbo's nephew's new wife has been kidnapped, disappeared into nowhere. And with the passion of family, Columbo pursues the kidnapper, hunting down clue after clue, before the fiend can commit his final act of dementia and murder the poor, captured woman.
Unfortunately, this is one of the made-for-TV movies not yet released on DVD. But Universal has slowly been publishing the Columbo episodes, in chronological sequence. So we can hope that this one will too be available within the next mumble-mumble years.
Your Favorites
What are your favorite Columbo episodes? Please comment below!
-TimK