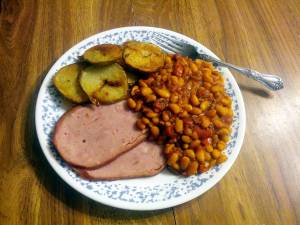 My latest culinary experiment was party a success; the other part, not so much.
The success was the sauce, the result of a spate of online research and some experimentation. The other part: I used great northern beans, which I think were a little old and didn't tenderize thoroughly. I've made baked beans before using great northern beans, successfully. I also thought the beans would pick up some of the color of the sauce, especially from the mollasses, but they didn't, or at least not as much as I expected. (Actually, they did take on a reddish-brown tinge, especially the second day. But they were just too firm. Ugh.)
So I'm sure I'll try this again, but using red kidney beans instead, and cooking them in water until they're thoroughly tender before simmering them with the sauce. (Doh!)
Hickory Smoked Barbecued Beans
2 pounds dried beans, soaked, cooked, and drained
1 cup chopped onion
2 cups diced red bell pepper
1 Tablespoon minced garlic
1 large can (28 oz) petite diced tomatoes
1 small can (6 oz) tomato paste
1/2 cup sugar
1/4 cup molasses
1 cup hickory smoke BBQ sauce
2 Tablespoons Worcestershire sauce
1 teaspoon black pepper
In a large pot (4-6 quarts), sweat the onion and red pepper with a pinch of salt in a little olive oil for 3 minutes. Add garlic and sweat for an additional minute or two, until onions and pepper are tender. Be careful not to let the onion or garlic brown.
Add remaining ingredients except for the beans. Heat over low heat, stirring to combine (especially the tomato paste). Be careful not to let it burn, as the sauce contains a lot of sugar.
Add beans, cover, and simmer for 1-2 hours, stirring occasionally.
Makes a lot of beans (about a gallon). (Might want to cut the recipe in half.)
As you can see, I served mine with turkey ham and pan fries. The beans and tam really went well together.
The pan fries I made by par-cooking some washed russet potatoes in the microwave (5-7 minutes per spud, on high), then slicing them into medallions (carefully—They're hot!); and frying the slices in a heavy iron skillet, in extra-light olive oil, over medium heat, each side until GB&D.
If you'll excuse me now, I'm getting hungry. Gotta find something to eat.
-TimK