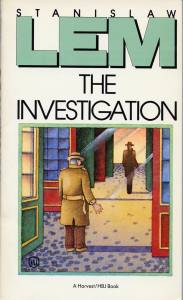 I'm still reading The Man Who Did Too Much, a comedic mystery about two very-unlike-each-other characters who get sucked into the danger of international intrigue. I finally got some serious, quality time to spend with this novel, and found that I can't put it down. I found myself laughing out loud at Karla Marquette and some of the bizzarre she gets herself into— George Starling is the straight man in this pair. And yes, I too searched Google for "flamingo yo-yo fantasia."
But that's not today's book. Still on the theme of mysteries that need to be solved, today I'm posting a snippet from a classic SF-mystery favorite, because I recently realized that I don't read enough SF anymore— and there seems to be so little good SF to read.
The Investigation, by Stanislaw Lem, one of my all-time favorite SF authors: This is a story of increasingly strange occurrences. In a plot worthy of the best of The X-Files, detective Lieutenant Gregory of Scotland Yard investigates a series of incidents in which corpses have been moved (or have moved by themselves). Initially dismissed as practical jokes in poor taste, eyewitness testimony eventually suggests a paranormal explanation… But we don't believe that, right?
Gregory uncovers a series of possible explanations, each successively more weird than the last, some of which require mind-bending alterations in worldview to understand. Love it!
Today's teaser, from page 8 (chosen randomly by Amazon.com) of the 1986 paperback edition of The Investigation (which is the edition that I have in my library):
"You took the words out of my mouth, Doctor. There was an unlocked window in the room from which the corpse disappeared—in fact, it was open, as if someone had gone out through it."

"He had to get in first," Sorenson interrupted impatiently.
---
Teaser Tuesdays is a weekly bookish meme, hosted by MizB of Should Be Reading. I'm trying a variation on the mainstream "Teaser Tuesdays" concept. Instead of quoting two sentences from a random page in the book, I'm selecting a snippet that reflects qualities I find in the book.
-TimK