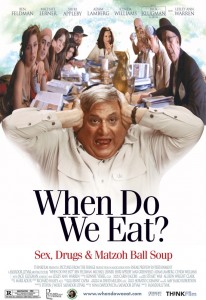 Tonight begins the first night of Passover. So I thought I might post some brief comments on some of my favorite lesser-known Jewish films.
And since it's Passover, let's start with When Do We Eat? (subtitle: Sex, Drugs & Matzoh Ball Soup), the story of a really dysfunctional and hilarious Passover seder, starring Michael Lerner, Leslie Ann Warren, Jack Klugman (one of the last films he appeared in), Meredith Scott Lynn, Shiri Appleby and others.
The Passover seder contains 15 steps, with eating the meal somewhere near the far end of those. (Hence the title of the film.) Even Ira Stuckman's "world's fastest seder" inspires hunger, as the family… Well, let's see…
Ira and Peggy haven't exchanged a tender moment since God knows when. Jennifer, the estranged half-sister, shows up with her lesbian lover. Grampa Artur, still living in fear of the Third Reich, is bitter at his son for forsaking the family business. Meanwhile, Ethan is desperately seeking spiritual fulfillment and so has recently taken up hasidism, Nikki finds her spirituality in her career as a sex surrogate, Zeke has slipped a tab of Ecstasy into his father's Mylanta, and everyone thinks Lionel is autistic. And it only gets better from there.
Woven throughout the story is the idea that joy drives out conflict. Which is true. As Ira's view softens, and he becomes less centered on himself, he starts to connect with his family. At first, everyone thinks it's just a drug-induced hallucination. (Whether or not it actually was is a questioned left unanswered at the end.) Then he actually begins to change, and the atmosphere around along with him.
A poignant reminder that if you can only find the joy in a situation, or even if you can just laugh, you'll be better able to repair your corner of this broken world we live in.
-TimK