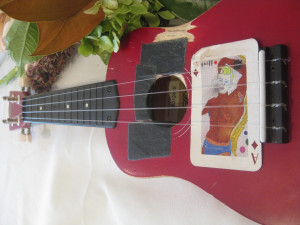 According to Jake Shimabukuro, "It's the instrument of peace, because if everyone played the ukulele, this world would be a much happier place."
He said that at TED in February 2010, in the performance that kicks off today's concert.
And then he set out to prove it by playing Queen's "Bohemian Rhapsody," the whole thing, solo, on his ukulele.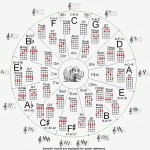 This post was actually inspired by a cryptic-to-a-non-musician but otherwise innocuous-looking circle-of-fifths chord chart, shared on Facebook by That ukulele-playin' Neil Guy. Thanks to Facebook's marketing, that led inadvertently to watching ukulele videos on YouTube, at which point I discovered some of what musicians are doing with ukuleles today, and it's très kewl.
Therefore, I put together an ukulele concert, in the form of a YouTube playlist, of 48 minutes of some of my favorite online ukulele performances.
We start out with…
…Jake Shimabukuro, as I mentioned before, bringing peace to the world with his rendition of "Bohemian Rhapsody." This is why the ukulele has the name "jumping flea."
Then we travel across the pond to hear The Ukulele Orchestra of Great Britain—6 ukuleles and an acoustic bass, all tangled up in spaghetti—performing the theme to The Good, The Bad, and the Ugly (though they seem to have left the bad and the ugly at home that day).
The excitable and energetic—and rightly so!—ukulele trio Heart & Soul then joins us with a Hawaiian version of "Misirlou." Makes me want to try surf skiing.
Enough with that amateur stuff, eh? Brittni Paiva proves that you can even play jazz on a ukulele— soulful jazz. Oy, I think I'm in love. (Don't tell Margaret.) Seriously, though, she does a lot of covers, and every single one is better than the original. She and her ukulele passion make me remember why I fell in love with music in the first place, and makes me want to start playing my guitar every day again, like I did when I was young. (Maybe I might even get that good.) After the concert is over, check out Brittni's albums.
As it turns out, there's a great deal of wonderful ukulele music featured on the Hawaiian YouTube show HI*Sessions. A number of these artists have been featured there, including Brittni.
On the lighter side, James Hill turns his ukulele into a beat box. An amusing and entertaining interlude.
Now, some time ago, Walk Off the Earth did a version of "Somebody that I Used to Know," all of them gathered around and playing a single guitar. When they went on Ellen, she made a crack about how it was good that they didn't have to squeeze in around a ukulele. Therefore, today, the Waffle Stompers put their ska on hold, just long enough to show her a thing or two. Six people and 12 hands, all playing a single ukulele.
Juliana Richer Daily got a new ukulele as a gift, and makes me believe that even I could grok the intrument, with her cover of "L.O.V.E." I could listen to her sing all day. Definitely check out her first and latest full-length album, Slow Love, which positively rocks.
And finally, The United Kingdom Ukulele Orchestra takes us out with the Theme to the Pink Panther (in German).
This post started with a cryptic comment…
…about the ukulele being the instrument of peace. That's not as crazy as it sounds. Ukuleles for Peace is Paul Moore's attempt to combine his love for the ukulele and his experience with kids, forming Arab-Israeli children's ukulele orchestras.
Paul's dream is to create orchestras in several communities and towns, enlarging the circle of real co-existence; enabling kids and parents to befriend one another; and with our modest abilities, helping to create a happier, better, peaceful society. There is a lot to be done in this area between the Arab and Jewish population in Israel. If the situation with the Palestinian Authority is safer, Paul would like to form a group there too. That will depend on a relaxing of travel restrictions and on parents feeling that things are safe enough for their children.
Frankly, of all of the attempts to bring peace to Israel and Palestine, this is one of the most likely to succeed. Political change occurs from the culture up (not from the rulers down). That's why infecting a society with music has more potential to produce positive change than mobilizing all of the military might ever assembled.
And, oh, by the way, I now so want a U-Bass!
Here's the concert video playlist
-TimK