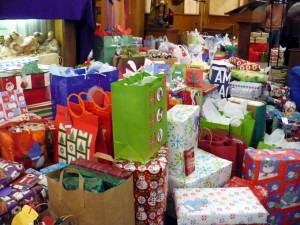 It's the last day before Christmas. Each year, the kids at church perform at our Christmas Eve service. And this year, Sondra (of In the Deep) has put together a wonderful kids program, with lots of special music. And I'm happy to have been a part of it.
I've been trying to spend more time on domestic accomplishments, like keeping house and helping out at church, and the holidays have given me an opportunity to do so. Over the past week, I've produced chord sheets for two songs that the kids will be covering, learned both of them (one on the keyboard, one on the bass), practiced with C the song we'll be playing together, set out Christmas music for congregational singing tonight, and shuttled the kids to and from practice. What I found is that doing these things helps me feel better about myself.
So concurs a psychological study of happiness during the holidays:
More happiness was reported when family and religious experiences were especially salient, and lower well-being occurred when spending money and receiving gifts predominated… In sum, the materialistic aspects of modern Christmas celebrations may undermine well-being, while family and spiritual activities may help people to feel more satisfied.
Over the past year, this is one of the most important lessons I've learned, and I integrated it as a theme in From the Ashes of Courage, that you're happier when you're thinking about how you can do things for others, rather than how you can get what you want.
Joe Griffin and Ivan Tyrrell make a similar point in their book How to Lift Depression …fast (one of the books I've relied on over the past year):
An incredible range of material goods is available to us now, and the continual advertising that attracts us to them, coupled with the purchasing power to buy, entices us to confuse 'wants' with 'needs'. It is now considered normal to encourage greed in this way… The problem is that any society that has a preoccupation with 'choosing' and 'having' increases the self-absorption of its members. Self absorption always becomes more pronounced in depression.
A Question
If the economy were to crash today, just before Christmas, would it send you into a spiral of depression? Would you worry about how you would make ends meet next week after the holiday? Or would you enjoy the time you have, to share with family and friends?
Circumstances could get a lot worse, before we reach the end of our actual ropes. And an economic crash doesn't even mean bad circumstances, as much as it means change and pessimism. But if you can remain happy with what you have, during the course of a disruptive, impoverishing time of change… Well, that's hard. But it would mean shifting focus, from consumerism to charity, from things to relationships. As this change occurs, everyone ends up being better off for it. In the end, it could be really bad for psychologists, because of fewer psychological problems.
So now I know what the major theme is for my next Ardor Point Novel, and what the story is about: A young woman, at a romantic, seaside cottage on her first wedding anniversary, finds joy in the onset of an economic depression.
So during this holiday season, enjoy the time you have to spend with people you love. Remember that Christmas is not about what you get, not even about what you give—though giving gifts is fun, and a nice thing to do. Christmas is about what you do.
Have a Merry Christmas!
-TimK