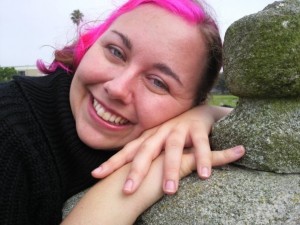 I'm sitting here in my virtual living room, talking to Jessica Broughton, part-time writer and author of the blog GrrlWriter.
Hi, Jessica.
Hi, Tim.
I really need to update the picture, since I don't have the pink anymore!
Yeah, well, I think that's probably true of all of us. I know it is of me. The part about needing to update the picture, that is.
I was reading on GrrlWriter about the Day Zero Project.
Day Zero Project is a website started by New Zealander Michael Green. Their mission is simple but powerful—1001 days to complete your top 101 goals. It's a totally free website where you can create your own list, get inspired by other people's goals and dreams, and as you complete your goals or get them started, you get to check them off. It's all about supporting each other and reaching for the stars.
What are some of the goals that you've set for yourself?
I've set a variety of goals for myself, some that are fairly simple and some that I know are going to really push me. My family is mostly Hungarian and Eastern European, so one of the more attainable goals is to learn to make stuffed cabbage and chicken paprikash. They're dishes that were staples growing up and are an important part of my heritage. It's a tradition that I want to continue and share with my friends and family. It's also a rite of passage—if you can make stuffed cabbage and get your cabbage rolls to hold together, you're a true Hungarian!
Yeah, I was reading on your blog about your first attempt to cook chicken paprikash. I'm looking forward to the second attempt.
Some of my smaller goals also include dancing in the rain—harder to do in Southern California than you think!—learn how to drive a manual transmission, become more financially literate, and buy a custom-made 1930s vintage skirt suit (which makes a lot more sense when you know that I'm a swing dancer and an Art Deco buff).
But I have larger goals, too, and a good bit of those involve writing, music, travel, or dance (specifically swing). Those are the four things that make me really happy and are my true joys. Ever since I was little I have wanted to see the world, so I picked my top four dream trips and I'm determined to make that happen. I'll confess that those seem out of the realm of possibility but that's part of the challenge. My big travel goal this year is to spend a full month abroad and it looks like that's actually going to happen. I also have the goal of being able to write full-time and to sell my first piece of fiction this year. I've spent a lot of time working as a non-fiction freelance writer but I knew that this year I wanted to focus on my fiction writing too. I also wanted more music in my life, and my friend Megs and I wrote our first album together in a month, and we start recording it this month.
So, why these goals?
These goals have been things that I've wanted to do for my entire life, and for me, they represent my commitment to myself and to leading the life I would like to lead. For most of my life I can honestly say I let fear—fear of the unknown, of trying new things, of pushing myself to make my dreams come true—stand in the way of making real progress. And, really, life is just too short to let the unknown hold you back. I decided that I might not succeed in everything I'd like to do, but I can try. Always wondering "what if" is the worst thing in the world for me, so writing down everything I'd like to do in a format that makes me accountable forced me to focus on all the good stuff I'd like to do in my life.
So this is a way for you to seize life.
I know all too well the fragility and shortness of life. I lost my friend, Scott, to cancer at the beginning of 2009. His death shook me to my core; he was only 38 years old. His funeral was a pivotal moment for me, one of those moments that you know you're at a crossroads. I went to the funeral alone and had this moment of realization sitting in the church waiting for the Mass to start. I was worrying about things that just didn't matter. I remember feeling so silly that I was letting the stress of tiny, insignificant things rule my life. And I vowed then and there to create the life that I had always dreamed of. In the midst of sadness, there was beauty and hope.
A complete stranger saw how upset I was and that I was alone, and he held my hand through the entire Mass. What a wonderful and human moment to have, to have support even when I thought I had none, to find inspiration in the middle of loss and sadness. It showed me to have faith in humanity and to have faith in myself. I never ever want to look back on my life and regret what I didn't do or didn't say, and I work hard to live by that. For me, the goals are about living my inner truth and about making sure that I never take this life for granted.
Has doing this shown you anything about yourself?
The biggest thing this project has shown me is to dream big. We all seem to be so impoverished by our dreams or by our lack of dreams. I have to admit that I'm having trouble getting to 101 goals that I want to accomplish myself, but as things occur to me I add them and examine. Putting my goals out to the universe has just kept me so focused and motivated, and it showed me that our internal limitations are much larger than our external ones.
As a person, this has really let me grow in ways I couldn't imagine. I'm an extrovert, but sometimes I can be closed off. In talking about my hopes and dreams and by sharing them with others I've been able to both give and receive positivity and encouragement. And, because I am a very independent person, I've learned the grace of asking for help and for asking what you want. I'm blessed with an amazing family, which includes my fantastic group of friends, and I find that every time I speak up with an intention or goal someone is right there with ideas, suggestions, or even ways of making that dream come true.
The first thing I completed for the Day Zero Project was to create a window box garden, and it was the first time I really spoke about my intentions to others. I'm so glad I did. My friend Hannah ended up gifting me with cuttings from her own garden, and she had the exact type of succulents I was looking for. I had so many that I ended up taking over a chunk of my back porch, and I love it. I have my own little slice of heaven right outside whenever I want.
I mention this because I remember reading a writing book in which the author's first bit of advice was to not tell people that you want to be a writer because no one wants to hear about it. But you know what? What no one wants to hear is you talk about goals that you're not going to work towards. No one wants to hear constant negativity, and no one wants to hear about why it can't work. There's power in our words and power in having a strong support system for your goals. You shouldn't share your goals indiscriminately—the last thing someone needs is for a Debbie Downer to crush your dreams while they're in their infancy. But I've found that the more I share, the more I speak up, the more open I am to things happening, the more I find that I'm in flow with life. At the same time, I've clearly defined who I am and what I want, and that keeps me grounded. I see life as a grand adventure, and the Day Zero Project has helped me focus on the adventure part of it.
Wow. Thanks so much for sharing, Jessica.
Thanks again for the interview!
Where can people find out more about your work?
You can go to GrrlWriter.com, or find GrrlWriter on Facebook. Please come say hello!
Excellent.
Please check out Jessica's blog GrrlWriter, read some of the pieces she's posted there, and become her fan on Facebook.