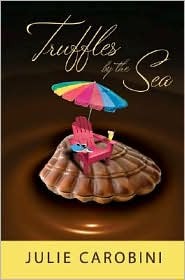 I started Truffles by the Sea a couple months ago. Then life got in the way. Being an author and blogger is always a balancing act between reading and writing, and sometimes I fall off the high-wire. I'm about a quarter of the way through this Christian chick-lit— er, that is, beach-lit novel by Julie Carobini, and I'm liking it better than its predecessor, Chocolate Beach, which I did enjoy.
Today's teaser, from page 37 (randomly selected by Random.org) of Truffles by the Sea:
"Doug's running late."

I've been sitting at Bri's dinged-up kitchen island nibbling on slabs of French bread from the bakery while mulling over my earlier decision to ask her for a loan sometime after tonight's dinner.
Teaser Tuesdays is a weekly bookish meme, hosted by MizB of Should Be Reading. Anyone can play along! Just follow the directions at the "Teaser Tuesdays" post.
-TimK