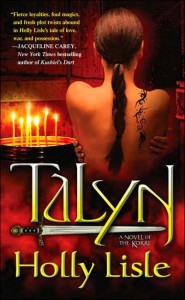 I'm still working my way through Talyn, by Holly Lisle. If you recall, I did teasers for it twice before: here and here. I'm now about 7/16 through, and still singing its praises. A reading session with this story always leaves me that "Wow!" sensation that I love. Frankly, Holly has ruined every other book for me. I should be angry with her, but for some reason I'm not. Maybe she's bewitched me, as her character Talyn has— Uh. But you'll have to read the book for that. (Wouldn't want to give it away, would I?)
As an author myself, I've noticed several typos in this printing of Talyn. However, that makes me feel a little better about the first time I saw a copy of From the Ashes of Courage. I flipped through to a random page and suddenly found the word "officialdate" staring back at me. How did that get in there?! I immediately went back to earlier proofreader copies, sought out that page… Yup. Even the earliest manuscript had that typo, every version right back to the beginning, and with all the reviews, every single one of us missed it before the thing went to press. Ugh.
Speaking of which, there's only one day left to enter the two free giveaways of copies of From the Ashes of Courage, on Neil Shurley's blog and Missy Frye's "Incurable Disease of Writing" blog.
Today's teaser, from page 474 (randomly selected by Random.org) of Talyn—and I struggled to find a good teaser from this page that did not give away the earlier story; I think this one works, but in the process, I spoiled some of the story for myself; I guess that's one of the risks of doing this teasers:
"We're here to ask for your help," I said, looking up at the faces that stared down at us…

My eyes filled with unexpected tears and I had to swallow hard and wipe at my eyes with the back of my hand to fight them back.
Teaser Tuesdays is a weekly bookish meme, hosted by MizB of Should Be Reading. Anyone can play along! Just follow the directions at the "Teaser Tuesdays" post.
-TimK