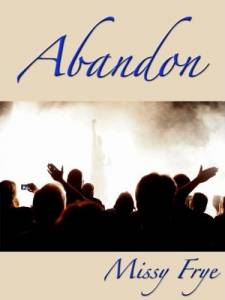 The Internet is a wonderful thing. With the proliferation of ebooks, authors can publish their shorter works economically. And they do. So it dawned on me that I should probably choose one of the many short stories I have read for one of these Tuesdays' snippets.
So I am, "Abandon", a short story by Missy Frye, a tale about a woman who renews her sense of adventure after an unexpected encounter with a performing rock star.
Here's today's snippet:
Innocence settled over Greta like a wisp of translucent material. "I'm a thirty-something, dignified professional. I would never lead your daughter astray." … Her time for youthful escapades had come and gone; she regretted her niece didn't get her wish.
---
Teaser Tuesdays is a weekly bookish meme, hosted by MizB of Should Be Reading. I'm trying a variation on the mainstream "Teaser Tuesdays" concept. Instead of quoting two sentences from a random page in the book, I'm selecting a snippet that reflects qualities I want to communicate from the book.
-TimK