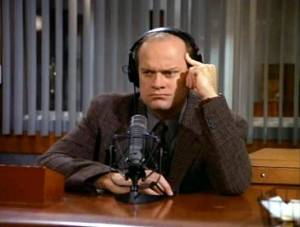 Frasier evokes strong memories for me. Back in the day, we used to record episodes on VHS. And then I went over to my parents' and put on Frasier and worked late into the night on their Windows computer—mine ran Linux—practicing designing 3D scenes. My idea was to create a computer game about a haunted school building, but the problem was that I had no idea what the hell I was doing.
Now, I waste time watching Frasier on Netflix, and I drink for all the stupid, idiotic stuff—drink coffee if I want to get wired or wine if I want to get smashed, and this show is rich enough to accomplish either!
Drink when Frasier makes a stupid pun, on purpose, and then pauses for a laugh. (Feel free to let out a muffled groan before drinking.)
Drink when Frasier or Niles uses a word you would need a dictionary to spell, or a literary allusion that you would need the Spark Notes to understand.
Drink when Frasier goes on and on embarrassingly (or boringly), when a simple statement would do just as well.
Drink when Frasier or Niles does or says something that proves that, as a psychiatrist, he has absolutely no clue whatsoever how other people's minds work. (e.g., Frasier thinks he's a sex god.)
Drink whenever Frasier or Niles, with his PhD, falls into a trap so stupid and wimpy, even I could figure out a way around it.
Drink when Frasier or Niles does anything more obsessive, compulsive, narcissistic, or neurotic than any of their patients, including:

competes with his brother,
obsesses over something insignificant,
buts into someone else's business so he can feel better about himself,
struggles with basic relationship issues that we all learned to handle by the age of 4,
ends a relationship permanently just because it's not fairy-tale perfect,
overdramatizes anything.

Drink when Frasier or Niles tries to talk like he knows something about some manly subject that he's completely clueless about. Drink again if it's a topic you mastered when you were 10 or younger.
Drink whenever one of Frasier's high-school nemeses proves that neither of them have become even a day more mature over the past 30 years, by playing juvenile mind games on Frasier, who naively and repeatedly falls into these traps.
Drink if Frasier concocts some complicated scheme to find out whether a woman likes him, when it would have been simpler just to ask.
Drink if Frasier thinks up a complicated lie, when the truth would have worked even better. Drink again if it's to impress a woman.
Sigh. I still like watching this classic series. It makes me laugh. It makes me cry. It makes me want to gut out my own entrails and force-feed them to the idiots that stuck in so many bad jokes along with the good ones. Still I keep going back for more, kind of like a dysfunctional psychiatrist.
Just keep the booze coming!
Cheers!
-TimK