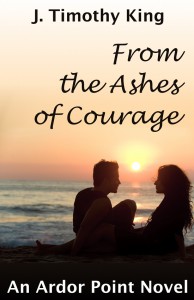 This goes into the "I probably would never have even dated George, but then he kissed me" category. One of the finished scenes, one that I particularly like, in Chapter 3 of From the Ashes of Courage.
BTW, I've been wondering whether I should post this novel to my "stories" blog. I usually only post short stories there, and the blog has been dead for a while, as I work on this novel. I'd happily post the entire novel, because it would increase book sales. But maybe online readers would be more happy with a part of the story, maybe select scenes that stand well enough on their own. (And there are a few.) What do you think?
After a scrumptious dinner, he sharing her sautéed whitefish, she sharing his stuffed pork tenderloin; and after cappuccino and a long, involved cheesecake discussion that resulted in them eating gelato instead; and after lots of reminiscing about the good times; and after the wine had worn off, Eddie found himself holding the door for her as she exited.

He didn't want to. He didn't want the evening to end. He didn't want it to go anywhere. But he enjoyed her company. She made him feel passionate. She opened in his heart a long-empty cavity that only she could fill. Just sitting with her, talking to her, seeing her, laughing with her, human contact with her filled that void. And he knew that as soon as she walked away, that it would be empty again. And he would again need to close the lid on his heart, in order to keep the emptiness from leaking into the rest of his life.

He escorted her in silence down Watertown street, as the evening cars thunk-thunk-thunked down the old, concrete-block roadway. As she approached her car, Eddie saw its lights flash, a light-colored Subaru, the streetlamps reflecting off its trunk, its horn emitting a bleep of finality, and he felt the inevitable slipping-away of the evening coming upon him.

He walked around the driver's side and opened the door for her, turned to admire her before saying goodnight. Bizarre, he thought, that he just now noticed, as the evening was coming to a close, the gorgeous green dress she was wearing, now shimmering in the night lights; her figure, flowing from her arms, down sleek legs, to a point at her toes. Tall and sexy and hadn't aged a day in over a decade.

"You look good," he said. "Did I mention how good you look?"

"Is this about the cheesecake again?" she joshed.

"No," he said with a bittersweet smile. "It was just– Really good to see you again. I'm sorry we didn't do this sooner."

"Yeah," she agreed. "Me too."

For a moment, she forgot the reasons she hadn't done it sooner, and wouldn't have tonight if she had been given the choice.

He brushed her hair back on the side and leaned in for a peck on the cheek. But she turned her head, and it landed on her lips.

She didn't mean to. Her head just automatically shifted, without her thinking about it. And what was probably supposed to be a goodbye kiss between friends morphed suddenly but oh so naturally into an intoxicating gesture that made her forget herself. There was some reason why she shouldn't be doing this, she knew, but for the moment, she couldn't remember what it was.

His hands caressed her face, his fingers pulling gently through her hair. As his lips met hers, she found herself being drawn into them, soft and supple. A wave of emotion passed through her and then receded, taking her strength with it, as he sucked the life out of her and into himself. She wrapped her arms around his torso, breathed in, tried to grab back what he had taken, a futile effort. Her legs collapsed from underneath her, and she fell against the car, his body falling over her in comfort and closeness.

He pushed off the car, away from her. Breathed for a moment. Then said, "I'm sorry. I didn't mean to do that."

That was all he could utter, and Gail also found her voice had been taken from her. She nodded, sat down behind the steering wheel. He closed the door behind her, and before her head cleared, he had left.
Whew!
-TimK
P.S. I'm preparing a Limited Advance Edition with Author Commentary, which is scheduled to be available around the new year. Subscribe to this blog to get the details, because I will post them nowhere else.
P.P.S. As I mention in the "making of" commentary, this scene is one of the few pieces from my original inception that actually made it into the final story.