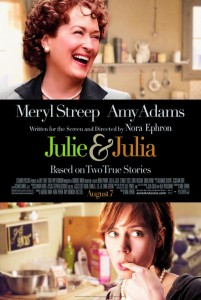 I finally got to see Julie and Julia over the weekend. Unlike many stories, it doesn't serve as a means of escape. Rather, there is substance and inspiration woven through it.
The film compares the stories of Julia Child and Julie Powell. Both faced an impasse in their lives; both set out on a search for meaning; both found it in pursuits that many failed to understand. Julia studied at Le Cordon Bleu at a time when all French chefs were men, and she brought that knowledge to American housewives. Decades later, Julie cooked her way through Julia's first recipe book, 524 recipes in 365 days.
Both women encountered resistance. Julia faced a glass ceiling of her day, and shattered it. Then she spent almost a decade coauthoring her now-famous Mastering the Art of French Cooking, only to have it turned down by Houghton Mifflin.
Julie cooked her way through that book and blogged about it, which prompted questions from friends and family, questions like… "Why are you doing that?!" Even her loving, supportive husband—and I hope if you're married that you have one of those— even he hit a low point and failed to understand why she needed to do it.
It might sound a little strange to say that she "needed" to cook 524 recipes in 365 days. Why would she need to do such a thing? If she didn't cook, what would happen? Would her world come to an end? Would millions of people die? Why was this challenge so important to her?
Maybe if you're going through your own search for meaning, the answer already makes sense to you.
In the same way, Julia needed a diploma from Le Cordon Bleu; it wasn't enough that she had learned all the techniques and dishes. This was part of her search for meaning. And then she wrote about it in her book and brought the experience to others, just as Julie did with her blog.
These are a spiritual quests. The mountain climber needs to climb bigger and higher mountains, just because they're there. Or me, when I was programming software, I needed to do it bigger and better, on an ever more predictable schedule, and when I couldn't improve anymore, I dropped out.
And now I need to author ever bigger and better stories—that is, stories that make an ever bigger impact. And I feel I have to do it ever more reliably, like clockwork. So my newest goal is to publish at least four new books each year. My latest, From the Ashes of Courage (Ardor Point #1), is out February 1 (though in reality, you can get it already); so that means the next one (Ardor Point #2, still untitled) needs to be on Amazon by May 1. (Three months from now.) Therefore, the first draft should be done by the end of February, so I can revise it in March and publish it in April, in time for a May 1 release. I already know what the novel is about, and it features two of the minor characters from Ashes of Courage; expect to hear more anecdotes about the story here, and about the writing process at my blog for writers, BeTheStory.com.
This is all very important to me, personally. And that's what struck me most about Julie and Julia, that Julie's pursuit had meaning for her, not just because it was a challenge, but because it was her challenge. And when she followed it through, that's what inspired me.
Gotta go now and get cracking on my next novel: I have my own challenge to meet.
-TimK