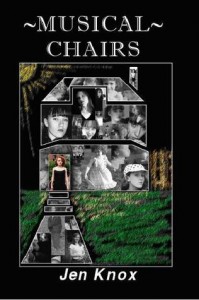 Some weeks (or months) ago Jen Knox and I swapped memoirs. She sent me a copy of her book Musical Chairs, which explores her family's history of mental health diagnoses, her years of strip-dancing, alcoholism, and estrangement, and her struggle for reconciliation. (That's from the cover.)
I also sent her a copy of Love through the Eyes of an Idiot, the story of how I flitted from romantic obsession to romantic obsession, until I made a fundamental change in my life; then I met my Beloved.
This past weekend, just as I had started reading her book, Jen sent me an email about mine:
I finally posted my review of your delightful book. Oh how it made me remember how lucky I am to have found Chris after all the relationships (if you can call them that) that came before him. He thanks you. I thank you, for writing a great read.
Thanks, Jen! That really lifted my spirits. Really. Do a good deed today: email your favorite author and tell her how much you enjoyed a book she wrote.
One more quick thing before I get to my teaser from Musical Chairs. Yesterday, I did an online reading of the Love-Idot book with Lori Newman. And while everyone tells me it went well, here I am counting the things about it that I need to learn to do better before I record the audiobook version. Eh.
Today's Teaser
From Musical Chairs p. 67 (selected randomly via random.org):
I had come to realize that the counselors believed I was just another runaway, a troubled teen wanting attention. After all, there I was, wearing a pale green hospital dress over jeans and a tank top, depleting my father's bank account in exchange for what?
Teaser Tuesdays is a weekly bookish meme, hosted by MizB of Should Be Reading. Anyone can play along! Just follow the directions at the "Teaser Tuesdays" post.
-TimK