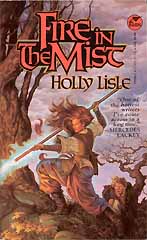 I'm about 85% through Fire in the Mist, one of Holly Lisle's earlier titles published by Baen Books. (And now available electronically from the Baen Free Library.)
Holly throws the plot a curve ball at around page 210, and breaks one of the premier "rules" of storytelling. And I'm loving it! Unfortunately, I can't tell you any more than that, because it would give away the story.
Today's teaser, from page 219 (randomly selected by Random.org) of Fire in the Mist:
(And I'm quoting three sentences today—one more than I'm supposed to—because, well, I just had to include that last one!)
A great, brawny gold-haired fellow in an odious purple-orange-yellow-and-black-patterned robe claimed the center of the arena and raised his hands, commanding silence…

In that robe, he could probably command the attention of the fishes in the sea and get it, Medwind thought, distracted from her reverie and wickedly amused. She nicknamed him Flamboyus.
Teaser Tuesdays is a weekly bookish meme, hosted by MizB of Should Be Reading. Anyone can play along! Just follow the directions at the "Teaser Tuesdays" post.
-TimK
P.S. Bonus quote, from page 260, which I just ran into today, and which I immediately fell in love with:
"You'll never fit into somebody else's world, Song. You have your own ideas—you won't let someone else think for you. The only place you will be accepted be the place you make for yourself."
Did you enjoy this post? Why not leave a comment below and continue the conversation, or subscribe to my feed and get articles like this delivered automatically to your feed reader.