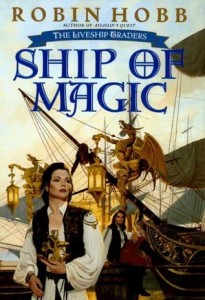 Not far from the Six Duchies lies Bingtown, hub of exotic trade and home to a merchant nobility famed for its liveships- rare vessels carved from wizardwood, which ripens magically into sentient awareness. Bingtown's Old Traders, their wealth eroded by northern wars and the rapacity of southern pirates, now face an influx of upstart merchants who bring change to a complex society.
I first considered Robin Hobb when I noticed her blurb on the back of Talyn: "Yet again, Holly Lisle creates a world and society that completely absorbs the reader. An unflinching examination of relationships amidst a clash of societies. This is not your average fat fantasy book."
Of course, I agreed with every word of that endorsement. So when I saw Ship of Magic in the Used Book Superstore, just one shelf above a Holly Lisle title (which I've been collecting), I took a closer look. The story sounded like it might engage me. And I figured, if Robin knows good stuff when she reads it, maybe she's written some good stuff, too.
Unfortunately, somewhere on page one, I put myself into "line-editing" mode, reading for grammar and punctuation instead of for content, just to keep my mind from getting bored during the introductory "Who the hell cares!?" and make it to the actual story part of the novel, which started to pick up round about page 8, at which point I took a break.
Alas, we must wait to see whether I make it the rest of the way through this book. It's not starting on the right foot.
Today's teaser, from page 83 (randomly selected by Random.org) of Ship of Magic:
He suddenly wanted her…

It was a pleasure to watch her as she moved to his commands, folding the bedding back to bare the white sheets, and then standing, reaching down to the hem of her shift to lift it up and over her head.
Teaser Tuesdays is a weekly bookish meme, hosted by MizB of Should Be Reading. Anyone can play along! Just follow the directions at the "Teaser Tuesdays" post.
-TimK