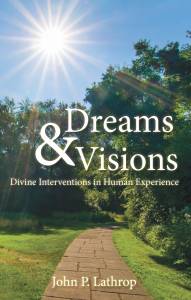 Through Labor Day, I finished up the publishing of my friend John P. Lathrop's next book, Dreams & Visions: Divine Interventions in Human Experience.
In the New Testament a number of people received divinely-inspired dreams and visions. Their experiences were unique, powerful, and produced action. And the Bible indicates that dreams and visions will continue to the present day. But these two areas of biblical experience we often overlook, or even dismiss, in the West. Meanwhile, in other parts of the world, even today, dreams and visions are still being experienced. Dreams & Visions explores not only the biblical theology of these phenomena, but also numerous modern accounts.
The paperback should hit Amazon and B&N later this week. I'm still working on an ebook release (coinciding with a long-overdue overhaul of my ebook-mastering process).
Today's teaser, from chapter 2 of Dreams & Visions: Divine Interventions in Human Experience:
The next dream we come to is found in Matthew 2. The New Testament is off to quite a start with regard to dreams; within the space of 18 verses we have already encountered two divinely-inspired dreams. The recipients of this dream were the Magi. We cannot say for sure how many people were in this group because the Bible does not tell us. The Magi is an interesting group because they were not devout followers of the God of Israel; they were pagan astrologers. They are not exactly the kind of people we would expect to visit the Jewish Messiah, but that is what they did…

It seems that in some way, unknown to us, the Lord let these men know that Jesus was a king. The Magi knew the right country to go to, but they did not know the right city. Craig Keener says that the Magi went to Jerusalem because that was where they would expect to find any Judean king. If they had known and understood the scriptures, they might have gone to the right city, for Micah 5:2 indicates that a prominent ruler would be born in Bethlehem. So the Magi journeyed to Jerusalem and upon arrival declared why they had come: to worship the new king. As surprising as it may seem, our text shows us that these pagan astrologers had some true spiritual sensitivity.

The Magi's question regarding the whereabouts of the one born king of the Jews elicited quite a response. Matthew tells us that Herod and the whole city of Jerusalem was disturbed…
---
Teaser Tuesdays is a weekly bookish meme, hosted by MizB of Should Be Reading. I'm trying a variation on the mainstream "Teaser Tuesdays" concept. Instead of quoting two sentences from a random page in the book, I'm selecting a snippet that reflects qualities I find in the book.
-TimK