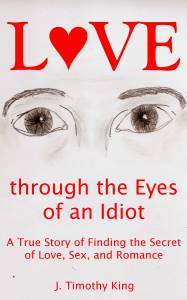 As of today, I have been married to Margaret, My Beloved, for 19 years.
(Remember to wish us a happy anniversary!)
So today, just a quick snippet from one of my own books, a memoir in which I tell the story of meeting My Beloved.
Today's teaser, from chapter 11 of Love through the Eyes of an Idiot:
I met Margaret in February 1992 at a Bible study. We talked. She looked young for her age; she was a little older than I had originally thought, but I didn't see how that mattered, because we were still part of the same generation, spoke the same language. She was studying to become a physical therapist, renting a room in a friend's house, and putting herself through school by working at UPS. Moreover, she seemed completely and undeniably normal, no debilitating past, no extreme neediness, no spiritual crises, no psychological disorders, no indication of any desire to "just be friends." And her hair was dark, and her eyes were blue-grey, and her nose was flecked with tiny freckles, and her name began with M and R.

She was wonderful and perfect, so naturally I had completely no interest in dating her.
---
Teaser Tuesdays is a weekly bookish meme, hosted by MizB of Should Be Reading. I'm trying a variation on the mainstream "Teaser Tuesdays" concept. Instead of quoting two sentences from a random page in the book, I'm selecting a snippet that reflects qualities I find in the book.
-TimK