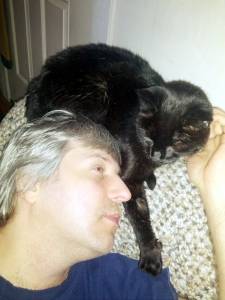 In early August, while the girls were at camp, I spent a lot of uninterrupted time with Tessie-cat. At almost-19 years, she's even older (in cat years) than I am. I call her "my geriatric cat," which is what she is. All she did for the whole week was to sit on the back on the couch, in her favorite spot, and sleep, taking brief breaks to eat or pee or poop or remind me that she depends on me for everything, including attention. After so many years, when it comes to our relationship, she's really still just a kitten.
And during this time we had to spend together, a truth acutely implanted itself on my consciousness, that no relationship lasts forever, because all creatures die, for one reason or another, and probably far too soon. My relationship with Tessie, I thought, will eventually end as well, and probably not too many years hence.
A thought like that really puts in perspective how annoyed I get at her when she begs and begs and begs for attention, at the most inconvenient opportunities.
Just after I wrote the Love-Idiot book, I hunted down many of the real-life people behind the stories in that book. The reason for the effort was to let them know that I had mentioned them (but not revealed their real names), and to let them read what I had written. But one of the side effects was that I was able to reconnect with a number of people from my past.
My Facebook friends list expanded substantially that month, which is one of the best things about Facebook.
Over the years, I had been looking for an excuse to reconnect with a lot of old acquaintances and friends, and the book provided an excuse. But I've realized—in a blinding flash of the obvious—that you don't actually need an excuse to reconnect. The joy of connecting with people you once knew is an end in itself.
So is the importance of how you treat the people in your life, of treating them well. It's generally a bad idea to express your irritation with others, because irritation is momentary, but love is eternal. Venting may feel good in the short term, but what you're doing is training your mind to feel angry. Whatever you train your mind to do, by practice, that's what it will become good at. So it's important to calm down rather than to let irritation turn into anger, and to ask yourself how you can best show love in this situation.
In the closing meditation of the Amidah (a central Jewish prayer), we read: "My God, guard my tongue from evil and my lips from speaking slanderously. May my whole being be silent about those who curse me… May the words of my mouth and meditations of my heart be acceptable to you, Adonai, my rock and my redeemer." If so in the face of our enemies, how much more so to those whom we love and who love us?
Fascinating, that a week alone with an old cat can inspire thoughts like this. I had found myself snapping at Tessie, especially when she demanded attention that I could not give at the moment. And then I realized that she was not going to demand attention forever, and that I should do my best to enjoy our remaining time together.
A recent trip to the veterinarian has confirmed that she has begun the downhill of kidney failure, common in geriatric cats. We can expect her condition to continue to decline. And one day, she'll go to sleep and simply never wake up.
And I capped off that sentiment by Netflixing Touched, the movie starring Jenna Elfman and Randall Batinkoff, about a guy who goes into a coma. In the story, he wakes up and discovers how to touch the lives of those around him, and to be touched by them. In real life, we don't usually get second chances. We need to take our first chances.
Today, put off the irritation that others may make you feel. Today, reach out to an old friend. Today, take a moment to be kind to someone you know. Because life is short.
-TimK
UPDATE: Tessie-cat passed away November 25, 2012. I was glad to have enjoyed every one of those last few months with her.