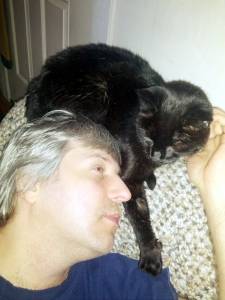 Tessie-cat passed away sometime last night. She had been part of our family for almost 19 years. She was being treated for chronic kidney failure, and we expected her condition to irreversibly deteriorate within the next several years. Meanwhile, we all gave her lots of attention in her last months.
We discovered her under the buffet, stretched out over the warmth of the heating vent. It appears that she passed away in her sleep.
We don't sit Shiva or say Kaddish for a lost pet, but please remember the family in your thoughts, as we are all sad, and are going to miss her very, very much.
-TimK