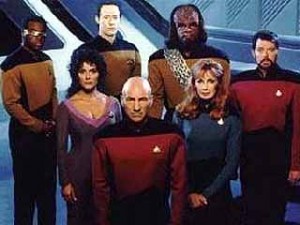 Yes, Star Trek. Specifically, The Next Generation.
The Little One and I have been watching select episodes together. I've been enjoying them on DVD, and she both startled and thrilled me when she started enjoying the show right alongside me. I panicked just a little when—right in the middle of a Borg marathon—she asked to see the first Next Generation episode ever made. Fortunately, barely 10 minutes into it, she found it just as distressing as I do. Of course, my comments about "Oh my God! I'm so glad he doesn't do that anymore!" probably didn't help.
(She also liked drawing comparisons between the Borg on one hand, and on the other hand, Brog, of Zork: Grand Inquisitor. "Brog like rocks! Rocks good! You will be assimilated." That was funny.)
Seriously, though, I used to think of Star Trek as a guilty pleasure, but as I've been going back through them, first the original series, then The Next Generation and Deep Space Nine, now with the benefit of years of training as a writer, I see the value of them. I see why I originally loved many of these stories, not because of the space-opera plots or the très kewl special effects or the corny techno-babble, but because they meet my five points of life-expanding stories.
I'm way behind schedule with Ardor Point #2, even without playing Farmville. I was originally supposed to be writing the first draft this week; instead, I haven't even started the zero-draft yet. But I figured at least I could get a good blog post out of the major distraction. So here are some of our favorite Star Trek: The Next Generation episodes, the Little One and me, that we've watched recently.
Sidebar: The Next Gener­a­tion and Deep Space Nine
Star Trek: Deep Space Nine started airing half-way through the sixth season of The Next Genera­tion. For about a year and a half, they aired cont­emp­ora­ne­ously. To increase my enjoy­ment, I've put together the following viewing schedule of TNG and DS9 episodes (including the TNG movies), reflecting the original airing order as closely as possible without breaking up multi-part episodes.
(I've numbered the episodes by season and episode order; so episode "615" is the 15'th episode in season 6.)
TNG …-611
DS9 101-105
TNG 612
DS9 106
TNG 613
DS9 107
TNG 614
DS9 108
TNG 615
DS9 109
TNG 616-617
DS9 110-111
TNG 618-619
DS9 112-113
TNG 620
DS9 114
TNG 621
DS9 115
TNG 622
DS9 116
TNG 623
DS9 117
TNG 624
DS9 118-119
TNG 625
DS9 120
TNG 626-701
DS9 201-203
TNG 702-705
DS9 204-205
TNG 706
DS9 206
TNG 707
DS9 207
TNG 708
DS9 208
TNG 709
DS9 209
TNG 710
DS9 210
TNG 711
DS9 211-212
TNG 712-713
DS9 213
TNG 714
DS9 214
TNG 715
DS9 215
TNG 716
DS9 216
TNG 717
DS9 217
TNG 718
DS9 218
TNG 719
DS9 219
TNG 720
DS9 220-221
TNG 721-722
DS9 222
TNG 723
DS9 223
TNG 724
DS9 224
TNG 725-726
DS9 225-226
DS9 301-307
Generations
DS9 308-506
First Contact
DS9 507-709
Insurrection
DS9 710-…
"Déjà  Q" (season 3, episode 13) – The episode where Q (played perfectly frustratingly annoyingly by John de Lancie) becomes a mortal human, and everyone takes out their revenge on him. Fun times. Fortunately, the Little One finds Q as irksome as I do.

"Night Terrors" (season 4, episode 17) – "Eyes, in the dark. One moon circles." Over and over and over again through Troi's dreams. Creepy. Meanwhile, most of the Enterprise crew seems to be slowly losing grip of their senses. A fine dramatization of the importance of REM sleep.

"Disaster" (season 5, episode 5) – The Enterprise accidentally runs into a cosmic string fragment, causing injuries and near-catastrophic failures all over over the ship. This episode defines suspense.

"Cause and Effect" (season 5, episode 18) – The ship collides with another ship from the past, throwing it and its crew into a temporal causality loop, in which they keep repeating the same day over and over again, kind of like Groundhog Day but without all the good times. How many times is the term déjà  vu mentioned in this episode?

"I, Borg" (season 5, episode 23) – The crew rescues the lone survivor of a Borg survey mission and plans to implant in his consciousness a computer virus that will spread through the entire Borg collective… until this lone Borg begins to see himself as an individual. It strikes me how even the Borg, evil incarnate, is made up of normal people with the same needs as ours, trying to meet those needs in the best way they know how. I'll remember this the next time I hear some politico spout on about a national "enemy."

"Schisms" (season 6, episode 5) – Commander Riker can't get enough sleep; some crew members have intense reactions to everday objects; others go missing… strange occurrences everywhere. This is the episode where members of the Enterprise crew are kidnapped by solanagen-based, bug-eyed aliens from a tertiary subspace domain.

"Rascals" (season 6, episode 7) – A transporter accident turns Picard, Keiko, Ro, and Guinan into children. I don't see what the problem is, actually; there are people who would pay good credits for a device that could take years off their lives like that. But I guess the Enterprise crew didn't like it. Unfortunately, before they could find an antidote, they were attacked by a renegade Ferengi Damon, who ordered all the adults evacuated from the ship, leaving these four children to take back control of the ship. Even when you feel small, you can still make a difference, if you work with your strengths.

"Timescape" (season 6, episode 25) – Picard, Troi, Data, and Geordi, returning from a conference on some planet, come upon a region of space filled with temporal anomalies, within each of which time is running at a different speed. At the center of the disturbance is the Enterprise and a Romulan warbird.

"Phantasms" (season 7, episode 6) – The Little One hasn't seen "Phantasms" yet, but I know she'll love it. Data, while running his newly discovered dream program, begins experiencing dangerous delusions while awake. But these waking dreams actually represent a real threat on board the Enterprise, of which the crew is unaware.
-TimK