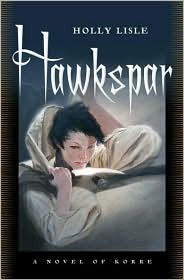 You may remember, I absolutely adored Talyn the first novel in this series. I have to admit that it was hard to pick up the sequel Hawkspar, because I had become so attached to Talyn and her cohorts. But Holly wasted no time hooking me on Hawkspar's plight.
This is the story of a slave, stolen from her family when she was very little, now with no name, every moment of every day mastered by the avatars of the stone Eyes. But she has not given up hope, has begun to organize a rebellion, to plan for the slaves' eventual escape. And she has a destiny of which even she herself is unaware.
Today's teaser, from page 166 (randomly selected by Random.org) of Hawkspar:
Her clothes were golds and browns and ambers, and he realized that they matched her eyes. Her stone eyes…

She said, "Out of the Order's robes, I no doubt look very different. I'm Hawkspar."
Teaser Tuesdays is a weekly bookish meme, hosted by MizB of Should Be Reading. Anyone can play along! Just follow the directions at the "Teaser Tuesdays" post.
-TimK