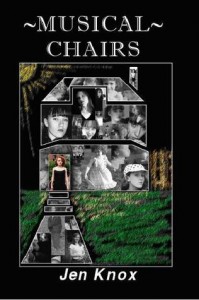 True story: A teenage runaway. Alcoholism. Life as a strip-dancer. A child of divorce. And the ultimate search for reconciliation, inspired by the same family that she had left behind.
When I emailed Jen Knox and told her that I was giving away a copy of her memoir Musical Chairs, she replied: "I'll donate a signed copy. If you'd like, two; just send me the winner's info & I'll mail it out." (And of course, I hope to do the same deal with Love through the Eyes of an Idiot on on her blog.)
So we're giving away two copies of Musical Chairs. I'll get to how to enter the giveaway in a moment. First, a couple comments about the book.
Says Randall Radic in his review:
Jen and most of her family are gloriously dysfunctional – just like most families. And they have a tendency toward mental illness. And – shockingly – she talks about it. Which is what makes her story and her book so wonderful. It's downright refreshing to read a book that acknowledges what most people know is true, but are afraid to confess: Most people are one brick short of a load. Which is what makes them and life so interesting.
I feel like an amateur writer, next to that paragraph. All I could come up with was:
I half expected a melodramatic pity party for a life beset by personal tragedy and self-destruction. On the contrary, Jen drew me into her story, the story of a girl I could hardly believe existed…

Jen was about to launch herself into boyfriends and sex and statutory rape and the real thing, erotic dances for money, fights and alcohol and the battle for control and delusions and psychosis and abandonment— But through it all, Jen seemed so… normal to me. I genuinely sympathized with her, felt for her in her quest, desired to reach out to her and provide what I saw she was missing in her life. And I smiled when she finally began to find it.

This is the reason I read independent memoirs, to meet people I might never otherwise know, through them to live experiences I could never otherwise fathom, and to win victories I would never otherwise have even pursued. And Musical Chairs generously filled that need.
How to Enter the Giveaway
Leave a comment below, on this post, in order to enter the giveaway. Be sure to enter your email address in the appropriate field below. (It won't appear on the website, but if you don't leave me your email, I'll have no way to verify your entry or to contact you when you've won.)
On the morning of Friday, December 17, I'll select two winners at random. (One entry per unique email address.) I'll email the winners to find out where to send the book, and Jen, so that she can mail them there. (Don't know if they'll get there for Christmas, but hopefully, around that time.)
Big Book Giveaway
Check out the other book giveaways from Big Book Giveaway 2010-2011.
Subscribe to this blog for future updates. Or go to my Facebook page and click "Like." Or follow me on Twitter.
-TimK